The Spaceport America Cup provides students from around the world a safe opportunity to practice the art of high-powered rocketry. University teams descend to the New Mexico desert for the week to present their technical achievements and battle the elements and plain-old rocket science problems to take flight. This week on SPEXcast we sit down to discuss Spaceport America 2019, including the highlights of the competition, the changes since 2018, and the future of this event as space engineering continues to grow in popularity.
What is the Spaceport America Cup?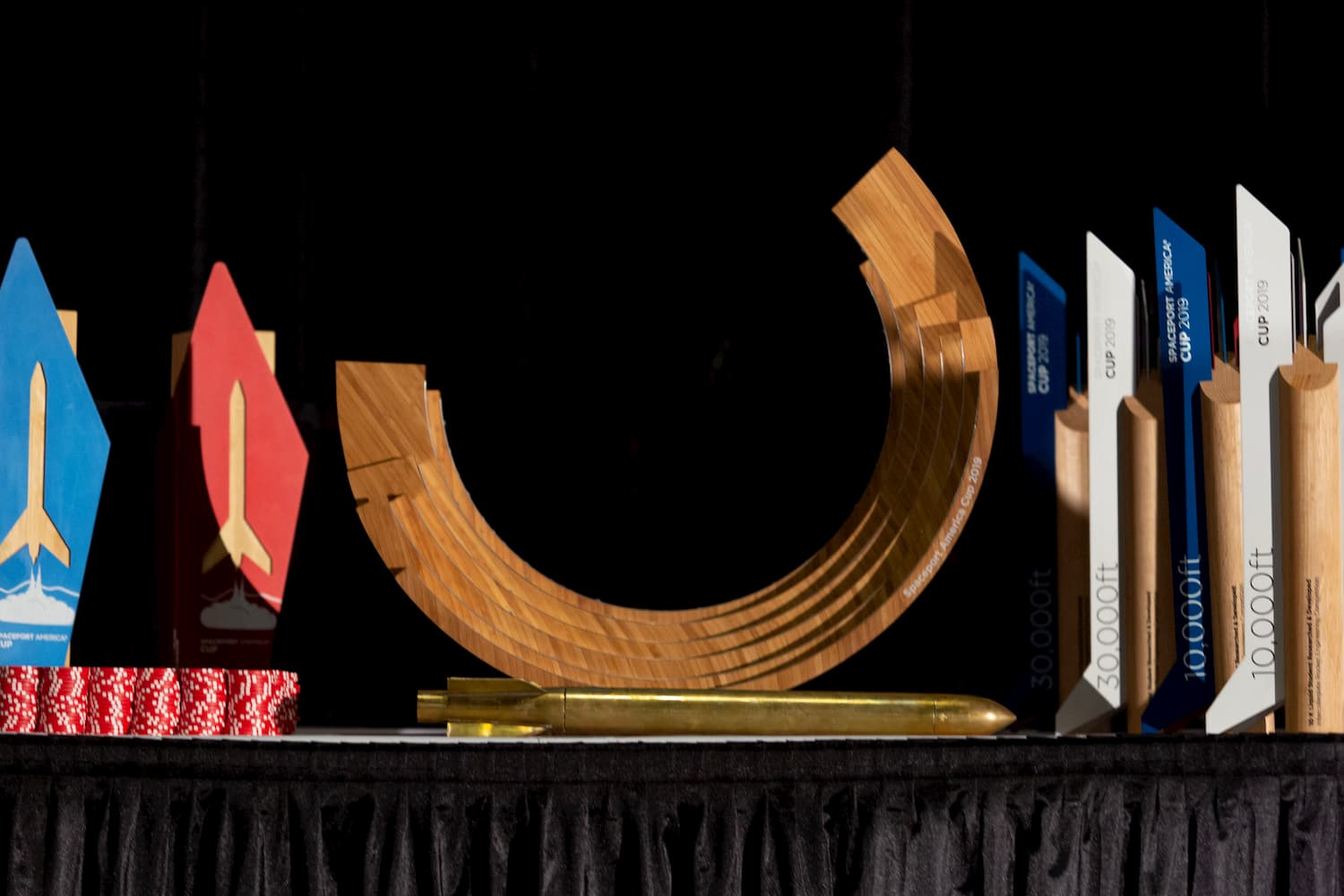 Spaceport America is the world's first commercial spaceport and home to Virgin Galactic. Its located adjacent to White Sands Missile Test Range, a perfect venue for launching rockets.Spaceport America is the venue for two undergraduate competitions. The Intercollegiate Rocket Engineering Competition tasks student teams with designing and building a rocket that can safely reach 10,000 ft or 30,000 ft and be recovered softly on the ground. The Cup also features the Space Dynamics Lab Payload Challenge, which tasks students with building CubeSat-compatible payloads to fly on top of these rockets. You can check out last year's coverage for more on the phases of the competition.
What's new this year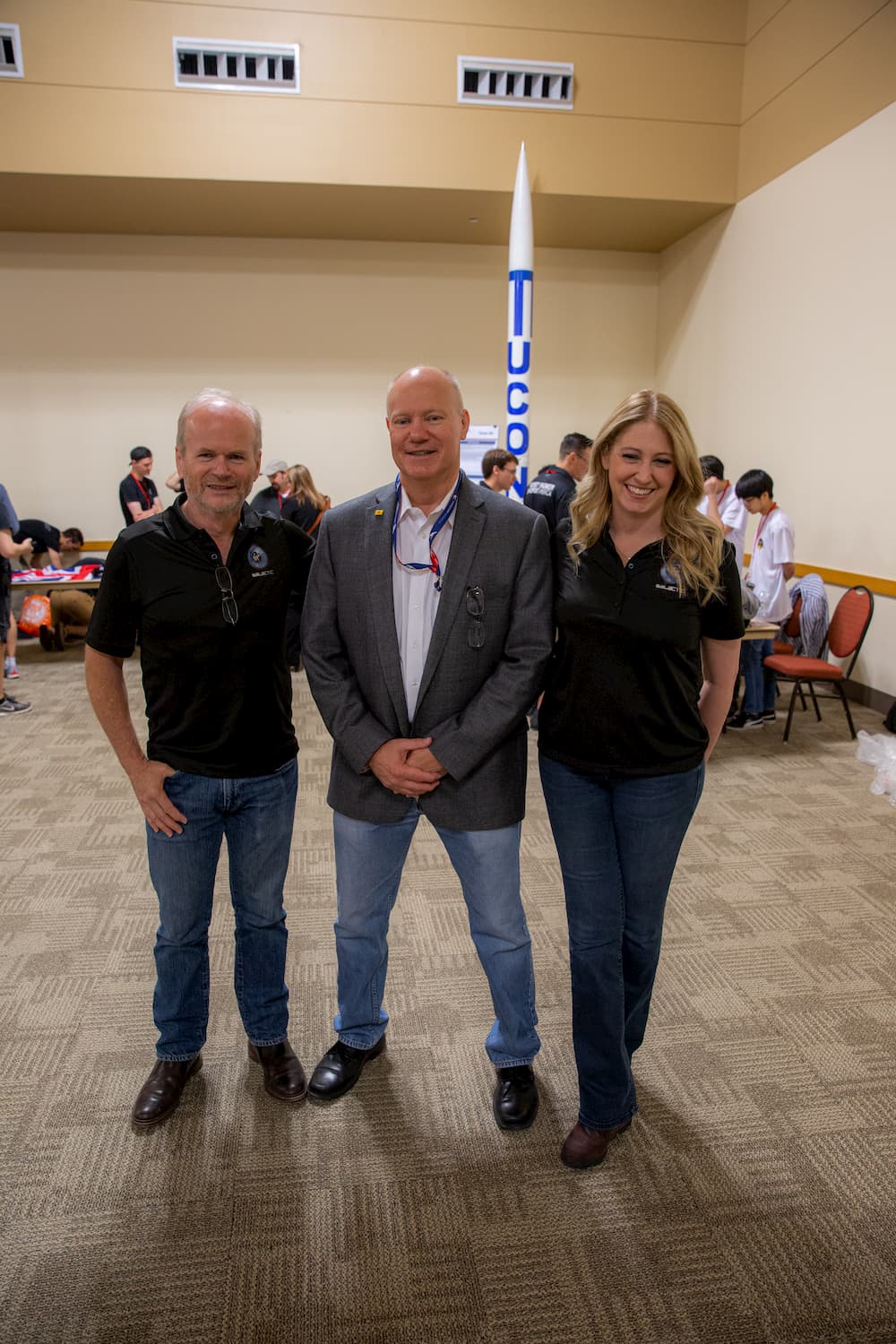 Spaceport America CEO Dan Hicks with Virgin Galactic Chief Pilot, David Mackay, and Chief Astronaut Instructor, Beth Moses, at Spaceport America Cup
At the press briefing during the competition, Dan Hicks, CEO of Spaceport America, discussed changes and improvements to the competition. Following a dramatic increase in scale from the first Cup in 2017 to 2018, this year remained roughly the same size. This year, only one rocket per school was allowed to compete, meaning more schools than ever were represented. This also meant powerhouse rocketry programs with many rockets could no longer compete in every competition category. The Spaceport is also looking at infrastructure improvements over the next twelve months to support even more students out at the Vertical Launch Site. A state grant for utility power, shade structures, and more has been approved and will allow the competition to expand safely.
Colorado State University Bi-propellant Engine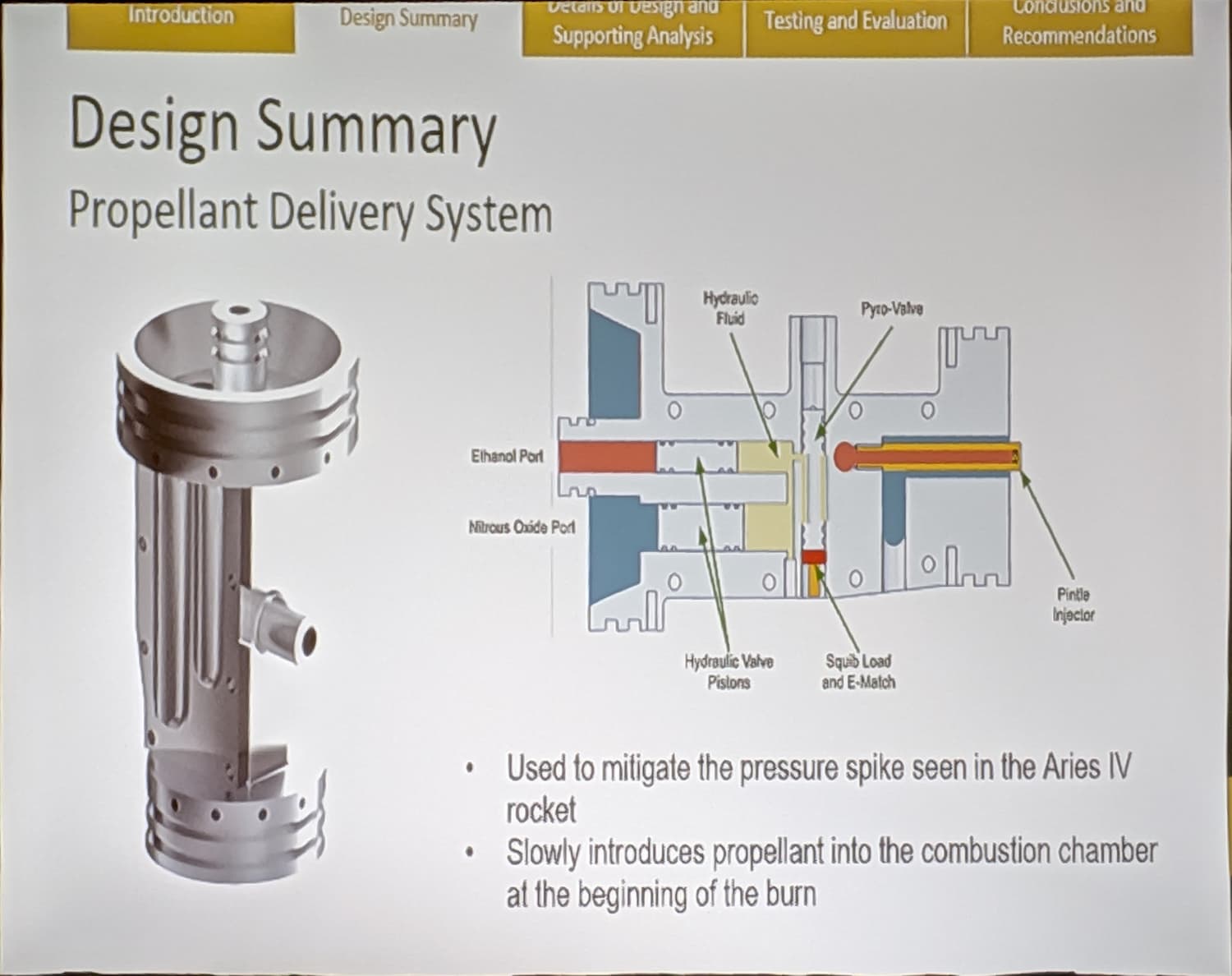 Podium sessions like the one above give student teams the opportunity to dive deep into the technical details of their rockets
At Spaceport America Cup 2019, CSU presented revisions to its bi-propellant rocket engine. Last year's team flew Aries IV with a nitrous oxide and ethanol bi-propellant motor. However, during flight the rocket failed. Post-flight analysis pointed to a pressure spike in the combustion chamber as a potential cause. The 2019 CSU Senior Design team was tasked with mitigating this problem.
Rocket engine startup is a challenging area for engine designers. Rocket engines are designed for steady-state operation. A certain ratio of fuel and oxidizer is injected into the combustion chamber. The injector design and latent thermal energy vaporizes the propellants and they combust, driving the cycle. However, the transition from a fully 'cold' engine before firing to this steady state presents unique challenges. There is no latent thermal energy in the combustion chamber before startup, so some form of ignition must be provided. This can include traditional pyrotechnics, electric sparkers, or pyrophoric chemicals with lower combustion energy requirements. Another challenge is proper atomization of propellant in the low energy environment of startup. Some engine designs limit propellant flow until the engine ramps up to standard conditions. This can be achieved by reducing propellant feed pressure or restricting propellant flow rate. The CSU team decided to approach the problem by restricting initial propellant flow using a hydraulic restriction mechanism.
What are hydraulic valves?
Hydraulic valves use a working fluid to open and close rather than a mechanical linkage or electric force. CSU's design leverages hydraulic valves to provide a smooth increase in propellant flow until reaching maximum. By letting the hydraulic fluid exit the piston at a fixed rate, the valve can open at a fixed rate, letting propellants through to the combustion chamber. CSU presented pressure graphs recorded in the combustion chamber from Aries IV and their modified engine for Aries V. The startup transient pressure spike had been reduced. Previously spiking to over 2000 psi, now gently ramping up from 0 to an operating pressure of 200 psi.
New Mexico Highlights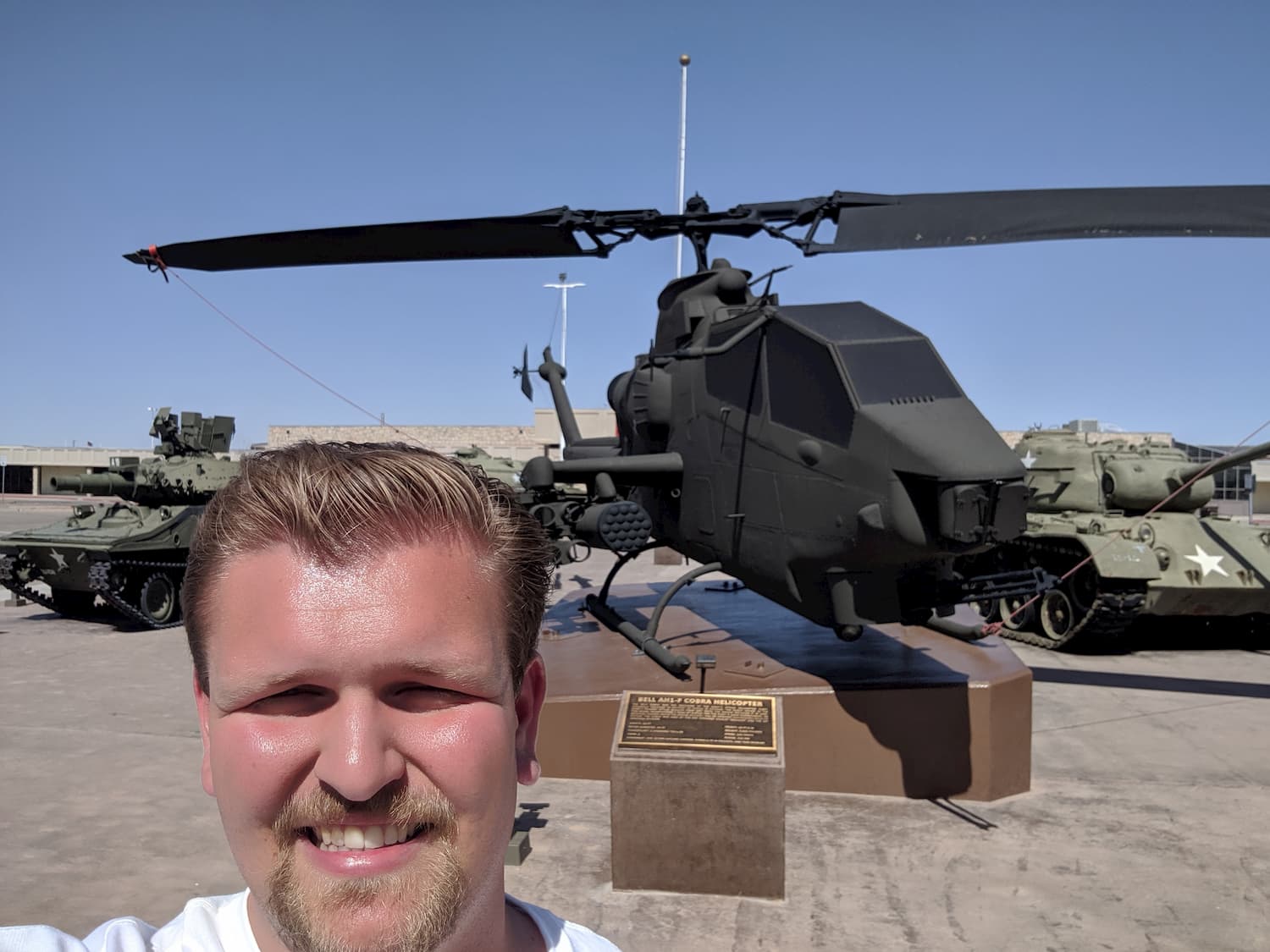 A collection of military hardware outside the 1st Armored Division Museum
Over the course of the week, we also had a chance to explore some other space highlights. White Sands Missile Test Range has a missile garden documenting the history of rocket testing at the base. Sounding rockets, V2s, Redstones, and even Patriot missiles were on display.
Also Fort Bliss features a museum dedicated to armored warfare, highlighting a collection of tanks from World War II through the modern era.
Special Thanks
Thank you to the whole Spaceport America and ESRA team for accommodating us and putting on a fun and safe event all week.
We'd like to thank Manfred Schreyer for helping photograph the event. You can check out his work at his website, mirageartphotography.com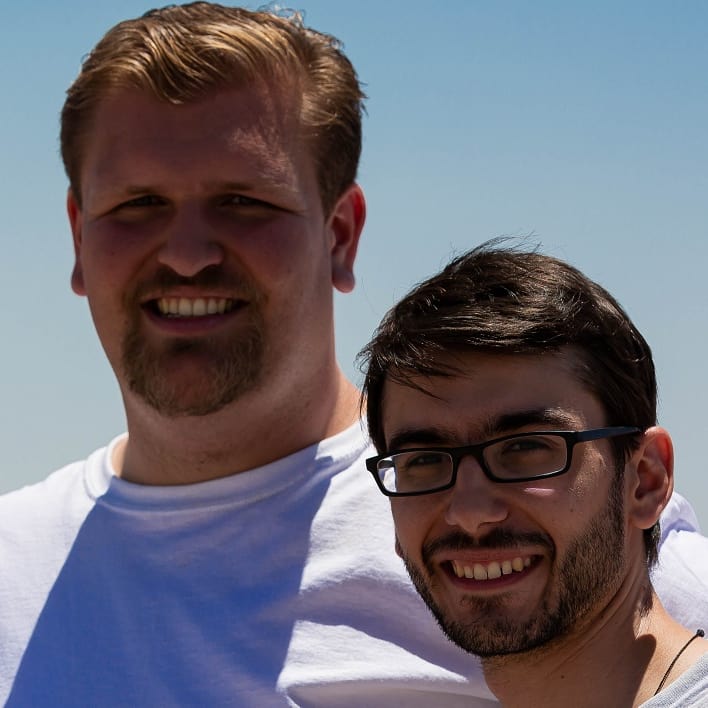 ESRA has published the final scoring of all the teams who competed in the event. Congratulations to the winners and all the students who participated in the Cup this year!
---
---