Subscribe on iTunes, Google Play, or by RSS for more space exploration discussions. (Banner image courtesy of SpaceX)
Last Thursday, March 29th, 2018, SpaceX launched the fifth batch of Iridium satellites from Vandenberg Air Force Base in the early morning. Later today, SpaceX will launch CRS-14, a SpaceX Dragon on a resupply mission to the ISS. These missions are a part of what have been dubbed the "SpaceX Steamroller" of April 2018, however it is important to remember it hasn't always been this way.
This week on SPEXcast, we discuss the recent release of the public report on the CRS-7 incident. We also cover the exciting new from Satellite 2018, including updates from key space industry executives. Orbital ATK also unveiled their Mission Extension Vehicle, which they intend to use to provide on-orbit maintenance and mission life extensions.
CRS-7 Report
NASA released the public report on the CRS-7 incident on March 12th, 2018.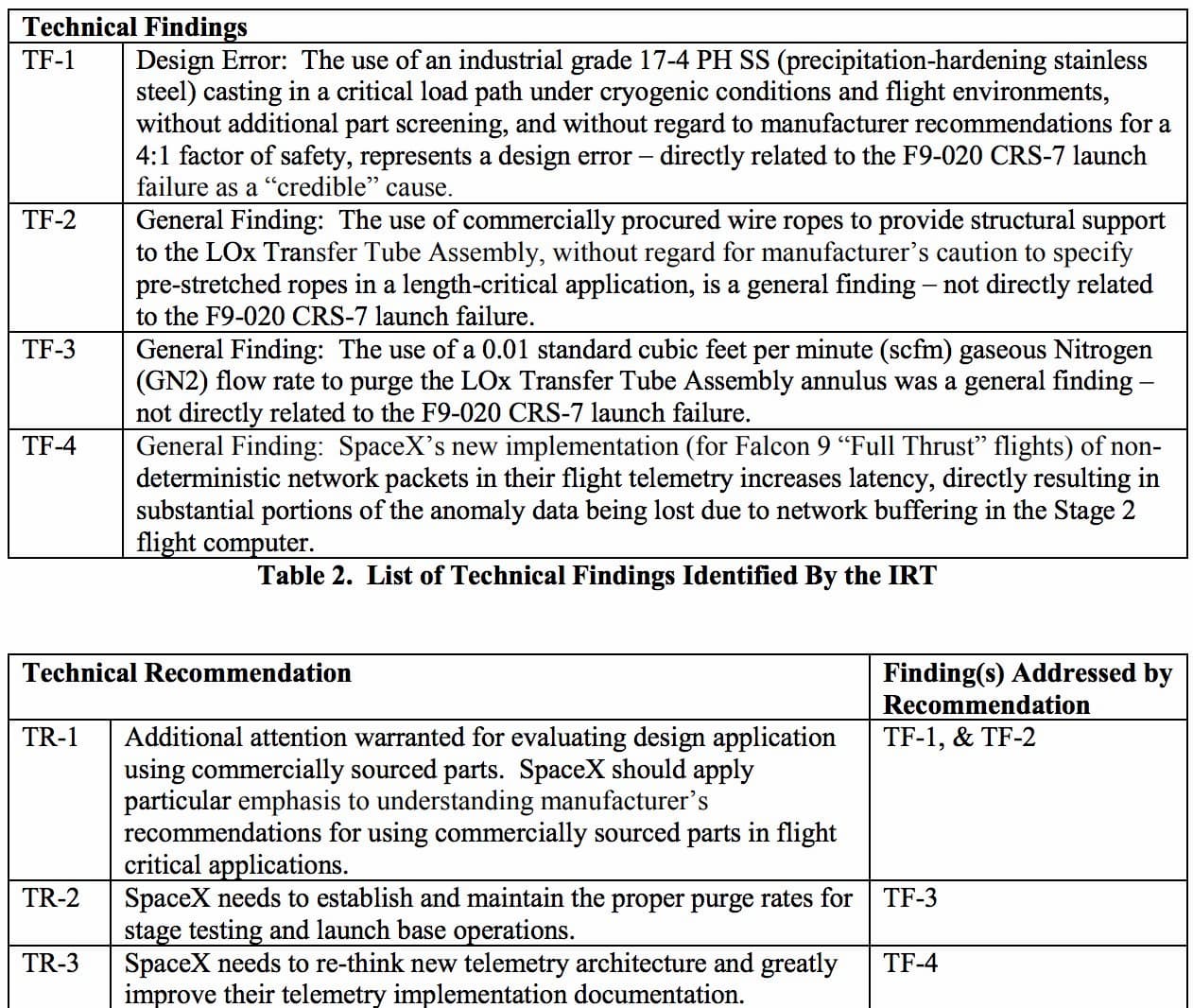 Spacex "Steam Roller"
April is a busy month for SpaceX. They planned to launch 5 rockets under 30 days. Here is the provisional schedule as of April 2nd, 2018. Iridium-6 has since moved outside that window.
Iridium-5 - 30 March 2018
CRS-14 - 02 April 2018
Transiting Exoplanet Survey Satellite (TESS) - 16 April 2018
Bangabandhu-1 - 24 April 2018
Iridium-6 - 10 May 2018
Sat Show
Satellite 2018 was held in Washington, D.C. between March 12th - 15th 2018.
At the conference, many key executives of space launch companies spoke to give updates on the work of their companies.
Bob Smith, CEO of Blue Origin
Tory Bruno, CEO ULA
Gwynne Shotwell, President Spacex
Ko Ogasawara, Vice President and & General Manager responsible for business development of all of space business at Mitsubishi Heavy Industries, Ltd. (MHI).
Clay Mowry: VP Sales, Marketing and Customer Experience
Stéphane Israël, CEO of Arianespace
Ko Ogasawara, MHI: H3 development "completely on track"; will be able to do up to 10 launches a year, 2 in 3 weeks. #SatShow

— Jeff Foust (@jeff_foust) March 12, 2018
Ko Ogasawara: We need 2 months between launches, having only 1 pad has been an issue on cadence; with next-gen H3 rocket, we'll have two pads at the Tanegashima site. #SATShow

— Peter B. de Selding (@pbdes) March 12, 2018
Ogasawara: H-2A launch rate limited by fact only launch pad at Tanegashima; need 2 months to turn around pad for next mission. H3 will have two pads. #SatShow

— Jeff Foust (@jeff_foust) March 12, 2018
Gwynne Shotwell: will be "significant overlap" between Falcon 9 and Falcon Heavy and BFR, given the effort required to develop Falcon vehicle sand getting government certification for them. #SatShow

— Jeff Foust (@jeff_foust) March 12, 2018
Gwynne Shotwell @SpaceX: Block upgrades are behind us now, we can get cadence up; 9 flight-proven 1st stages launched so far, and 1/2 of this year's flights will use flight-proven stages. Customer acceptance happening faster than we thought.#SATShow

— Peter B. de Selding (@pbdes) March 12, 2018
Stéphane Israël, Arianespace: on track for first launch of Ariane 6 in mid-2020. CDR this summer. #SatShow

— Jeff Foust (@jeff_foust) March 12, 2018
For @Arianespace @ArianeGroup Stephane Israel, we maintained our market share in 2017 in tough environment. Ariane 5 January anomaly fully corrected, we'll announce next Ariane 5 flight in coming days.#SatShow

— Peter B. de Selding (@pbdes) March 12, 2018
Tory Bruno, ULA: "pretty excited" to shift attention to commercial market after helping US government "avoid a serious crisis in space" with space launch. #SatShow

— Jeff Foust (@jeff_foust) March 12, 2018
For @torybruno @ulalaunch, our 1st decade's job was to fly for US govt. Now we can shift our attn to commercial marketplace. Now we market directly to commercial customers. #SatShow

— Peter B. de Selding (@pbdes) March 12, 2018
Bruno @ulalaunch Lots of Vulcan investment is not ULA money, but investment by the supply chain. Not only are we better our future on product development, so are they.#SATShow

— Peter B. de Selding (@pbdes) March 12, 2018
Shotwell @psacex: Market is not just demand, it's demand with money. A lot of smallsat guys dont have much money. That's why we ended Falcon 1. But with constellation replacement, small launchers may find a market.#SatShow

— Peter B. de Selding (@pbdes) March 12, 2018
Bruno: see small launch vehicles as complementary to our larger vehicles. We deploy constellations and small launchers can replenish them. #SatShow

— Jeff Foust (@jeff_foust) March 12, 2018
1st @Hughes_Corp #OneWeb gateway system ships; 55 being built. "multiple tracking antennas to support ops/handoff of high-speed user traffic to/from the sats + custom switching complex, outdoor modems and power amplifiers. Each to handle up to 10,000 terminal hand-offs per sec pic.twitter.com/aSqZGvMTOS

— Peter B. de Selding (@pbdes) March 13, 2018
Shotwell @SpaceX: Satellite servicing ideas were born in part in response to high launch prices. As prices come down we'll see what the actual demand is. #SATShow

— Peter B. de Selding (@pbdes) March 12, 2018
Shotwell: hard to say how declining launch prices will affect emerging market for satellite servicing. Interest was driven in part by high launch prices. #SatShow

— Jeff Foust (@jeff_foust) March 12, 2018
Bruno: congratulate SpaceX on Falcon Heavy achievement. But there's no innovation if we all do the same thing; pursuing our own approach to reusability, market will tell us what is best. #SatShow

— Jeff Foust (@jeff_foust) March 12, 2018
Smith: everybody wants more volume (with regards to shift to 7-meter payload fairing on New Glenn.) Tremendous reception in market. #SatShow

— Jeff Foust (@jeff_foust) March 12, 2018
Mowry: at our heart, Blue Origin is a propulsion company. Propulsion is a key technology and you need to own that. #SatShow

— Jeff Foust (@jeff_foust) March 12, 2018
BE-4 Engine Test
New test video of Blue's 550K lbf thrust, ox-rich staged combustion, LNG-fueled BE-4 engine. The test is a mixture ratio sweep at 65% power level and 114 seconds in duration. Methane (or LNG) has proved to be an outstanding fuel choice. @BlueOrigin #GradatimFerociter pic.twitter.com/zWV0jWXIvx

— Jeff Bezos (@JeffBezos) March 13, 2018
Orbital ATK Mission Extension Vehicle
Orbital ATK's Dave Thompson giving an overview of development of the initial version of the Mission Extension Vehicle, with Intelsat as first customer. #SatShow

— Jeff Foust (@jeff_foust) March 13, 2018
Tom Wilson, president of Orbital ATK subsidiary SpaceLogistics, unveiling the company's next-gen servicing system: a Mission Extension Pod attached to extend life of satellite in place of larger MEV. #SatShow

— Jeff Foust (@jeff_foust) March 13, 2018
Wilson: Pods are for satellites able to control own attitude but need stationkeeping. MEVs can do attitude control as well as stationkeeping. #SatShow

— Jeff Foust (@jeff_foust) March 13, 2018
---
---