Subscribe on iTunes, Google Play, or by RSS for more space exploration discussions. Cover Image: The Draft Environmental Assessment for the SpaceX site features a concept rendering of the new control tower. Via NASA
This week on SPEXcast, we dive into the recent announcements by SpaceX on their new launch complex, the exciting new research and technology demonstrations on NASA's CRS-15 mission to the International Space Station, and some of the unique payloads launched by global launch providers including infrastructure for China's most ambitious lunar mission yet. We also cover the Tesla Roadster SpaceX edition unveil as well as Soyuz MS-09, bringing three new crew members to the ISS.
Next Generation SpaceX Flight Control Center at Cape Canaveral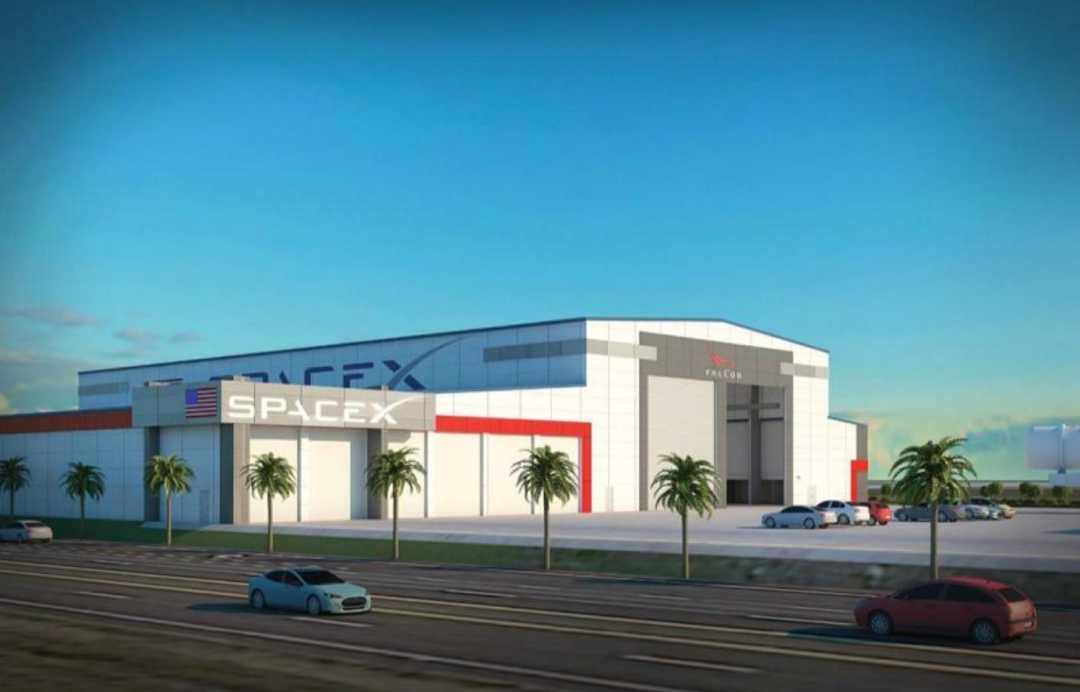 SpaceX's proposed expansion would features a 133,000 sq. ft. hangar for processing recovered booster cores, as well as a launch control tower, industrial park, and rocket garden.
SpaceX unveiled a proposal for a new Flight Control Center in Cape Canaveral Florida. The site would feature a control tower, which SpaceX says will " be world-class, architecturally distinctive, and equipped for satellite, cargo, and crew missions". It would have up to 32,000 sq. ft. of space for flight controllers as well as accomodations for customers including meeting space, offices, and other amenities. The report also gives us a indication for SpaceX's expected launch volume.
SpaceX estimates there may be up to ten events per year for a Falcon Heavy launch, and up to 63 landings (54 Falcon 9 single core landings and nine Falcon Heavy triple core landings) at the current CCAFS landing site or on the SpaceX drone ship.
This would represent and 2x-3x increase in missions launched from the Cape, solely by SpaceX. It is likely a significant portion of these launches will occur as part of Starlink, SpaceX's satellite constellation.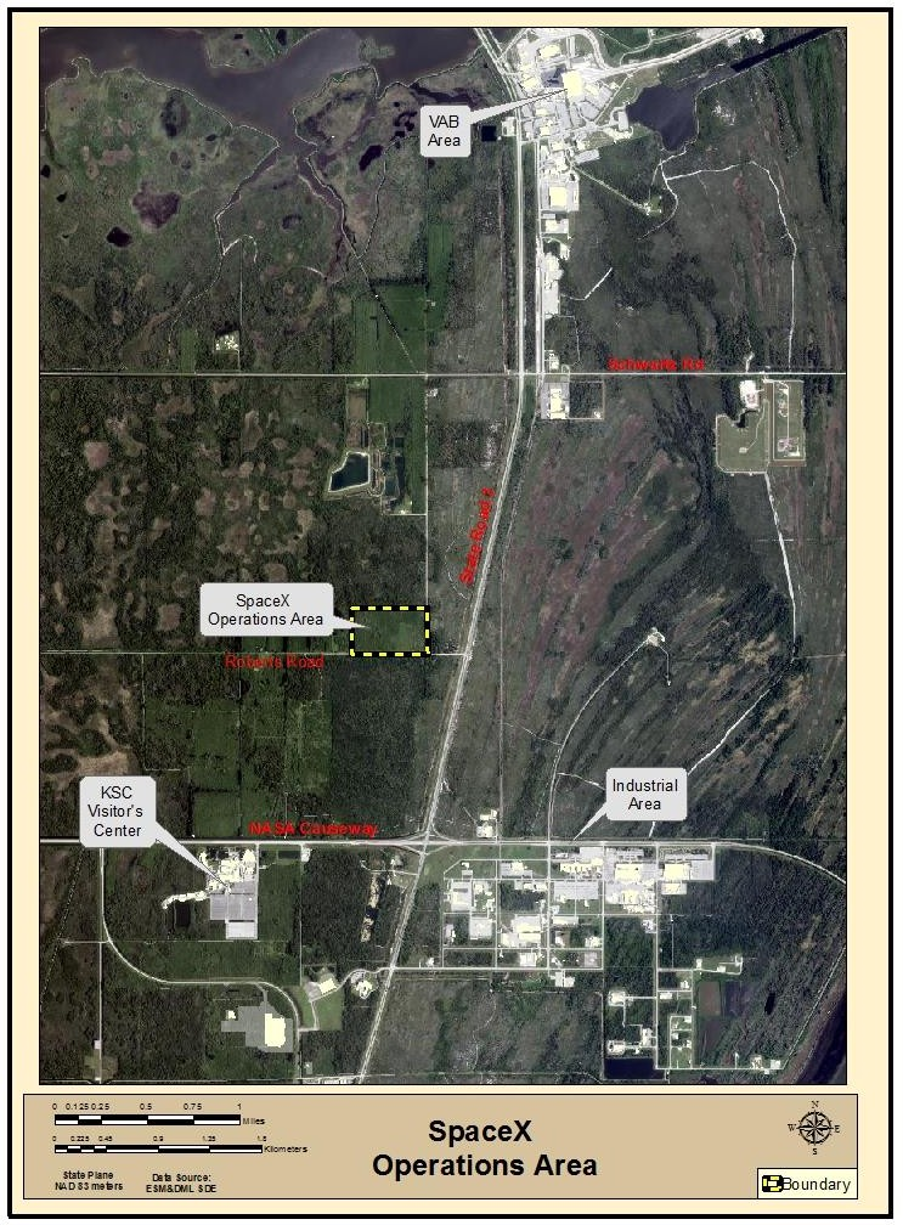 This image shows the position of the new control center just outside of Kennedy Space Center, but with full road access to Pad 39A and SLC-40.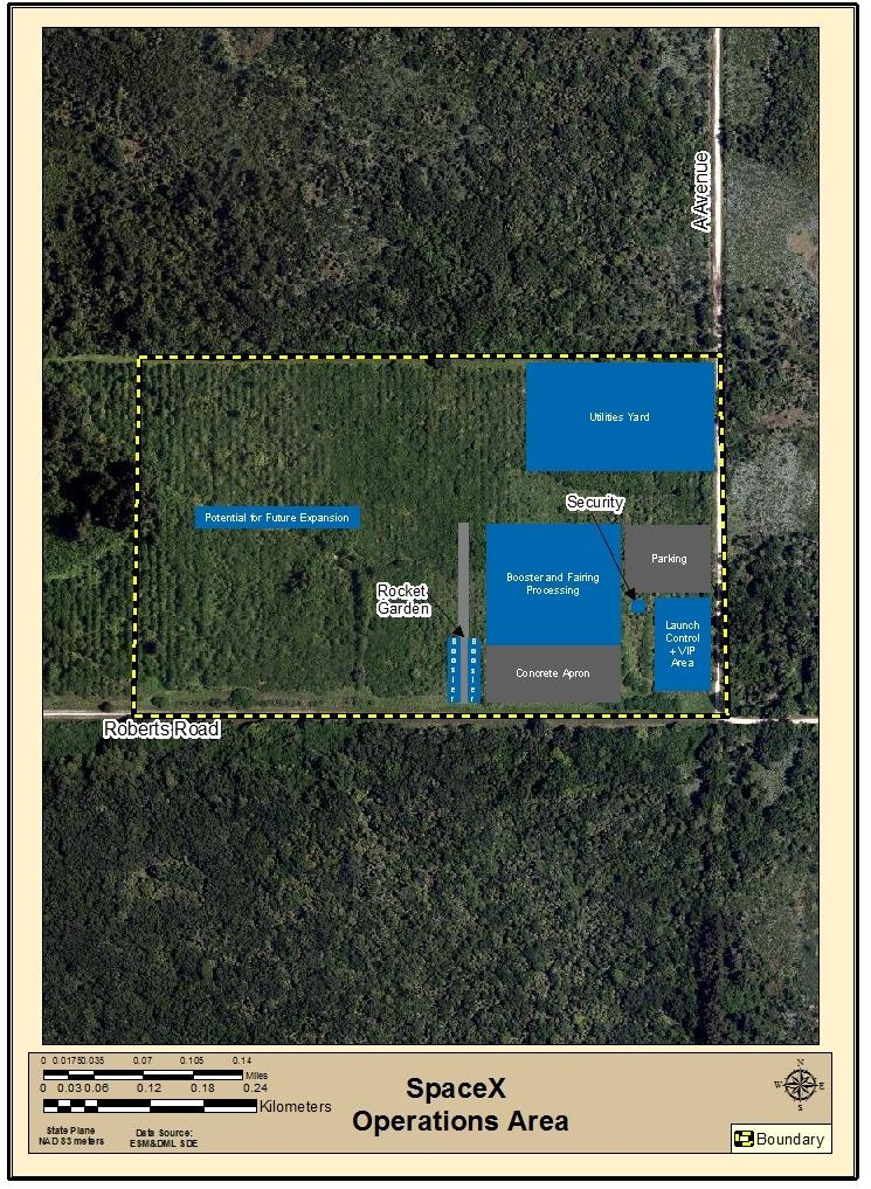 The new center may have portions open to the public. The site is close to the existing Kennedy Space Center Visitor's Center and will feature a rocket garden, with Falcon 9 and Dragon vehicles displayed vertically and/or horizontally.
StarLink In-housing of major components
Teslarati reported that according to SpaceX job listings, it looks like every major component of Starlink, SpaceX's satellite internet constellation, may be built in-house. Job listings point to "satellite structures, laser (optical) data interlinks, on-orbit phased array antennae, digital signal processor (DSPs) software and hardware to aim those antennae, solar arrays, battery systems, power electronics, custom integrated circuitry and systems on a chip (SoCs), user terminals and larger gateways, network operations, production automation, autonomous satellite constellation management, and much, much more." The newest bit of information is that it appears that the user terminals will be built in-house by SpaceX. Elon Musk mentioned that these terminals, which would be the size of a pizza box and ideally cost $100 to $300 each, would be one of the biggest challenges of the project.
Two demonstration satellites, Tintin A and B, launched with Paz on February 22nd, 2018. Elon Musk said that testing was going well, but another set of satellites will be launched that more closely match the final design.
SpaceX Roadster?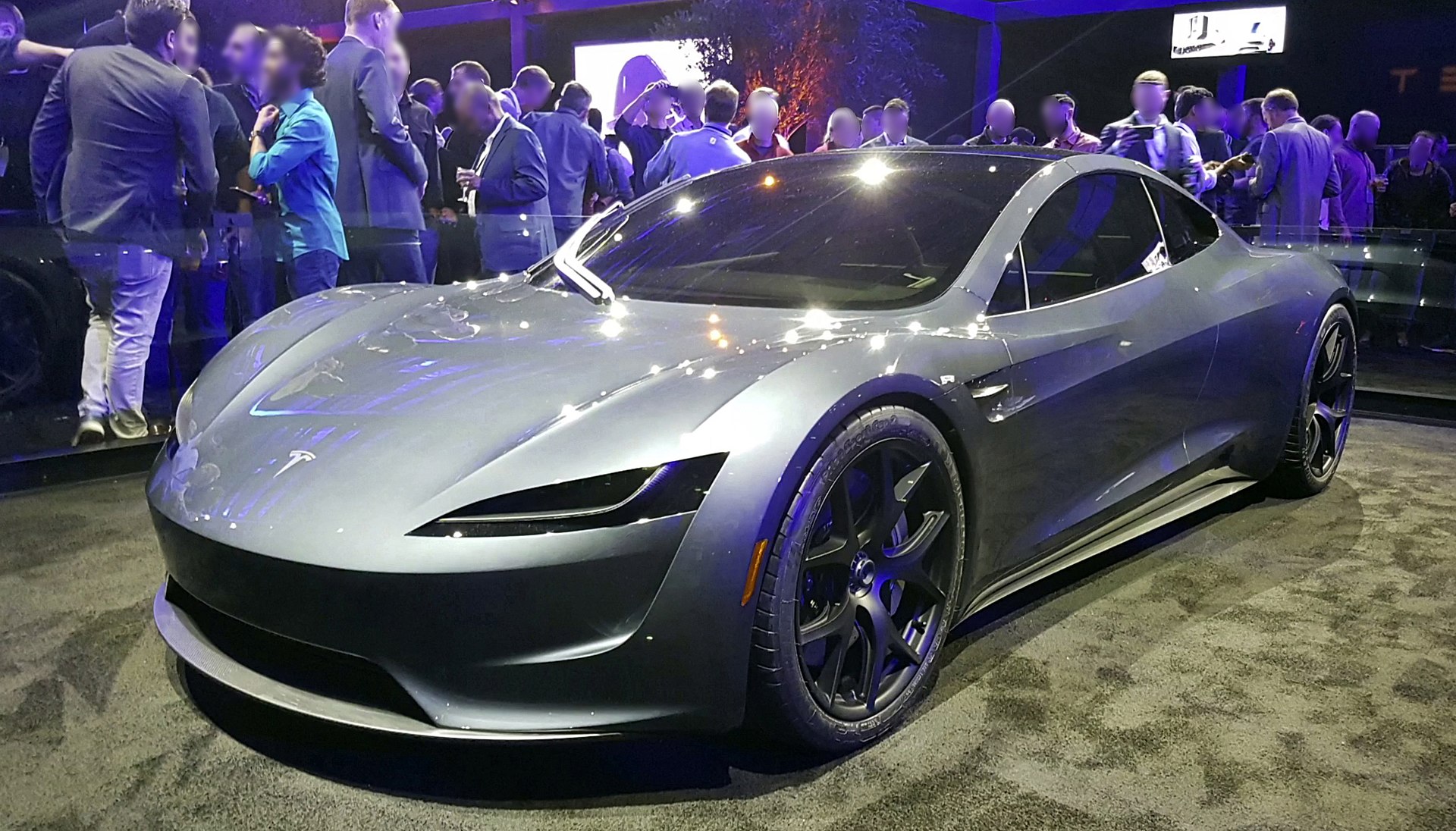 A special SpaceX option package for the Tesla Roadster 2 would feature a SpaceX Composite Overwrapped Pressure Vessel (COPV) and an array of air thrusters to improve performance. Via Wikipedia
At the annual Tesla Shareholder's meeting, Elon Musk hinted at a SpaceX option package for the Tesla Roadster 2.
Correct, pure electric. Wish orbital rockets could be so too, but there's no escaping Newton's Third Law. SpaceX is already developing high efficiency CO2 capture with H2O to form liquid CH4 (methane) & O2. Critical for propellant production at Mars Base Alpha.

— Elon Musk (@elonmusk) June 10, 2018
Elon described a system of compressed air thrusters fed by a COPV tank inside the vehicle. These air thrusters allow for higher peak power output than an electric battery with motors can provide. Ostensibly, these thrusters will improve performance and handling for the vehicle, helping to secure the Roadster 2's status as a 'halo crown' car.
Note, gas contained would be ultra high pressure air in a SpaceX rocket COPV bottle. The air exiting the thrusters would immediately be replenished whenever vehicle pack power draw allowed operation of the air pump, which is most of the time.

— Elon Musk (@elonmusk) June 10, 2018
SpaceX COPVs have actually survived re-entry at orbital speeds in the past, and have been found by people back on Earth. It is likely the SpaceX Roadster option would use the new and improved COPV design SpaceX developed after the AMOS-6 failure. While these COPVs could be the strongest and safest ever, the option is likely to cost significantly more than the $200,000 base price.
Several car manufacturers are experimenting with ways to add more control to road vehicles using systems other than the force of the wheels. Zenvo unveiled their TRS-S car at the Geneva Motor Show, which features active aerodynamic surfaces that can provide more than just downforce to the vehicle while driving.
CRS Mission payloads
SpaceX and NASA's 15th Commercial Resupply Service Mission with a reused Dragon capsule is scheduled for June 28th, 2018. It will be carrying exciting, new experiments and technology demonstrations to the International Space Station.
CIMON - Floating robot powered by air thrusters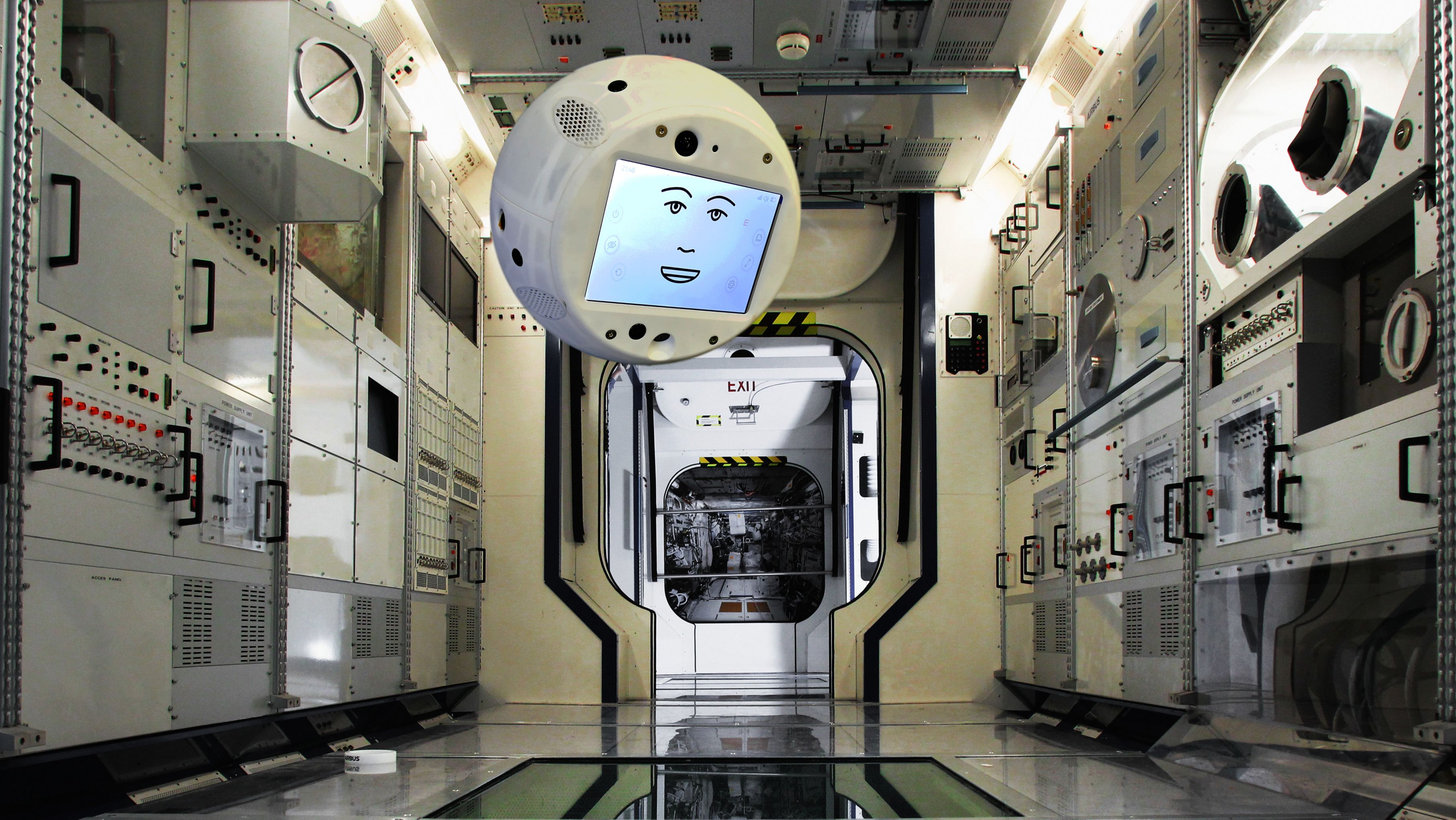 CIMON (Crew Interactive Mobile CompanioN) is a mobile and autonomous assistance system designed to aid astronauts with their everyday tasks on the ISS. This will be the first form of Artificial Intelligence (AI) on an ISS mission. CIMON is an experiment overseen by Space Administration at the German Aerospace Center (DLR) in cooperation with Airbus (Friedrichshafen/Bremen, Germany) as the prime contractor. Via Airbus
CIMON is an autonomous robot designed for zero-g operation. It is roughly the size of a medicine ball, weighing 5kg and uses 3D printing for its unique design. Unlike Robonaut, which was statically mounted on the ISS, and traditional bipedal robots on Earth, CIMON uses air thrusters for navigation and orientation in microgravity. The plan is to use CIMON as a companion and helper to astronauts on the ISS as they go about their daily routine. AI elements powered by IBM will help it interact more naturally with humans. The goal is to explore the use of AI to mitigate crew stress and workload during long-term spaceflight.
Exoelectrogenic Organisms in Space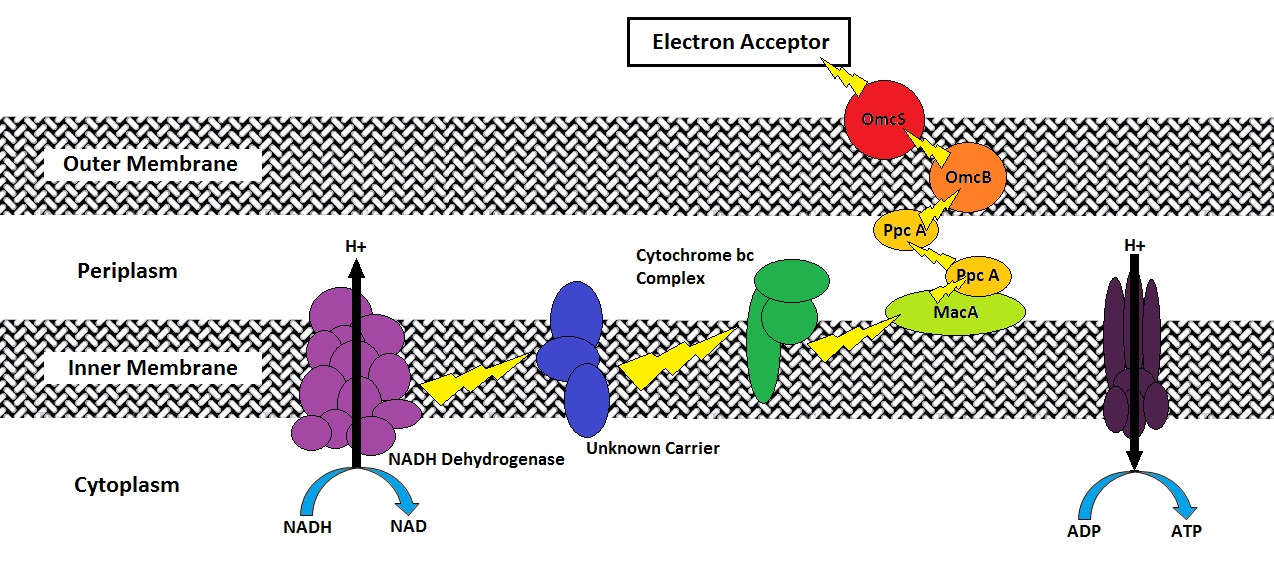 Exoelectrogenic bacteria can use solid electron conductors as part of their biological processes, rather than aerobic or anaerobic respiration. Via Wikipedia
Another interesting experiment is called Investigating the Physiology and Fitness of an exoelectrogenic Organism under Microgravity Conditions, which hopes to better understand how microgravity affects bacteria's ability to conduct electricity.
A cellular biology investigation to understand how microgravity affects the growth, gene expression and ability of a model bacterium to transfer electrons through its cell membrane along bacterial nanowires it produces. Such bacteria could be used in microbial fuel cells to make electricity from waste organic material.
These kinds of experiments showcase the research that can be done on-orbit which could enable breakthroughs in new technology on Earth.
ECOSTRESS - Monitoring Plant Lifecycles from Space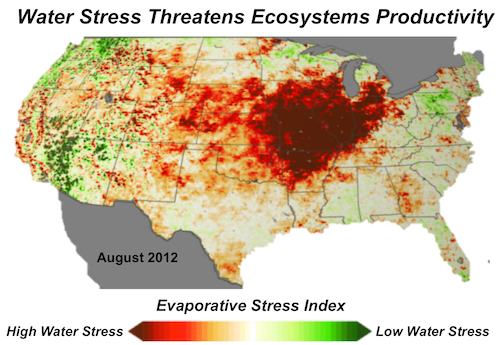 Map of the 2012 drought in the United States showing differences in water stress. Red areas indicate high water stress (drought conditions) and green areas indication low water stress (non-drought conditions). Via NASA
An Earth science instrument called ECOsystem Spaceborne Thermal Radiometer Experiment on Space Station (ECOSTRESS) will provide a new space-based measurement of how plants respond to changes in water availability. The goal of the experiment is to inform and answer several questions on the Earth's biosphere.
How is the terrestrial biosphere responding to changes in water availability?
How do changes in diurnal vegetation water stress impact the global carbon cycle?
Can agricultural vulnerability be reduced through advanced monitoring of agricultural water consumptive use and improved drought estimation?
ECOSTRESS is another example of the utility of the ISS for Earth observation. The alternative would be to fly a dedicated satellite to enable the same kind of data collection. Using the ISS reduces redundant work in building spacecraft buses, and lowers the overall cost of the experiment, allowing for more scientific research for the same cost.
'Space Coffee'
Lastly, Deathwish coffee has partnered with NASA to supply ISS astronauts with freeze-dried coffee, suitable for spaceflight. While this is a promotional stunt, it is important to note the role of nutritional, yet fun food in space. Coca-Cola launched Coke cans and soda fountains into space with the space shuttle, and Tang has been closely associated with NASA, even if it wasn't invented specifically for the space program. Proper nutrition is critical for astronauts, but making food appetizing and appealing is critical too. John Young famously snuck in a corned beef sandwich into his rocket launch, because he'd rather have good food than the relatively bland, yet nutrionally bland food NASA had prepared.
You can check out the full NASA press release below for more information on the experiments flying to the ISS on CRS-15.
Launch Round-up
Chinese lunar data relay satellite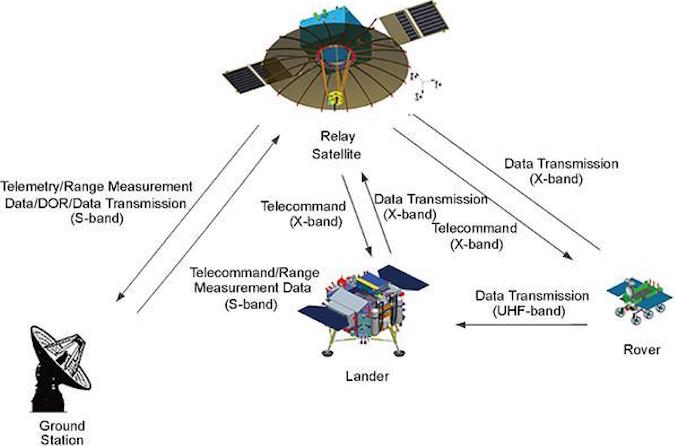 Diagram of the Queqiao spacecraft's data relay function between Earth and the Chang'e 4 lander and rover. Credit: CASC
Spaceflightnow reported on the recent launch of Queqiao, which launched May 20th from China's Zinhua space center aboard a Long March 4C rocket. Queqiao is a relay satellite positioned at Earth-Moon L2, which will relay commands and data from the far side of the moon during a follow up lander mission called Chang'e 4 launching late this year.
Chinese Weather Satellite Launch

Various Fengyun satellites – via the National Satellite Meteorological Center, CMA
NASASpaceflight reported on the launch of Fengyun-2H, which is a Chinese weather satellite launched via a Long March 3A from Launch Complex LC2 at the Xichang Satellite Launch Center on June 5th. Fengyun-2H is an interesting approach to weather data collection. Compared to GOES, which uses remote sensors to generate data for weather forecasting models, Fengyun-2H acts as a central receiver for many remote ground weather stations, collecting the data, and sending it to meteorologists to make forecasts.
Soyuz MS-09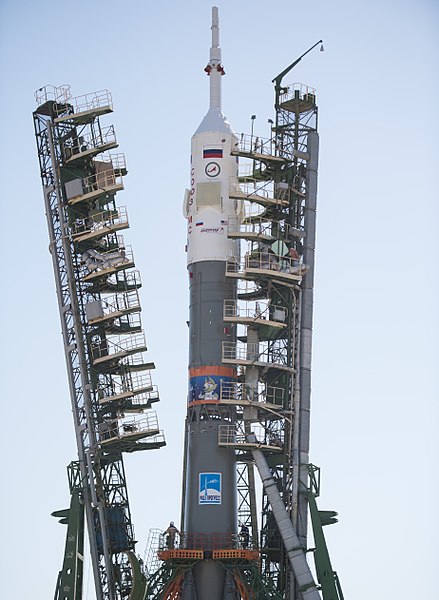 Soyuz MS-09 on the pad in Baikonur before its launch on June 6th. By NASA/Joel Kowsky [Public domain], via Wikimedia Commons
Spaceflight Insider covered the launch and rendezvous of MS-09, a crewed Soyuz launch delivering Russian cosmonaut Sergey Prokopyev, NASA astronaut Serena Aunon-Chancellor and European Space Agency astronaut Alexander Gerst to the ISS as part of Expedition 56. The launch stream debuted a never before seen second stage camera view of the Soyuz launch, including shots of booster separation, also known as the Korolev Cross. It is promising to see launch providers continue to improve their launch coverage for eager audiences. Space launches help improve public awareness of space activities and help expose people to the science and research being conducted in space.
Ignition reprint
Ignition!: An Informal History of Liquid Rocket Propellants by John Drury Clark has just been rereleased. Ignition is a wonderful introduction into the physics, chemistry, and history of rocket fuel development. SPEXcast covered the first two chapters of the book in our SPEXcast Bookclub episode. You can pick up the reprint on Amazon, and expect our final review episode of the book in the coming months.
Check out the episode player at the top of this post for our full thoughts and discussion on each of these topics, and subscribe on iTunes or your podcast service of choice to catch our upcoming episodes.
---
---