Late Monday night, Elon Musk revealed two videos of the landing maneuver following the successful launch of BulgariaSat-1 in June 2017.
Here you go https://t.co/hjIs5fbBoy pic.twitter.com/aVnwR0loX9

— Elon Musk (@elonmusk) April 7, 2020
This mission was the second flight of a reused Falcon 9 booster and represented the early proving grounds of rocket reusability. While the mission was successful, webcast footage showed the booster leaning due to a hard landing.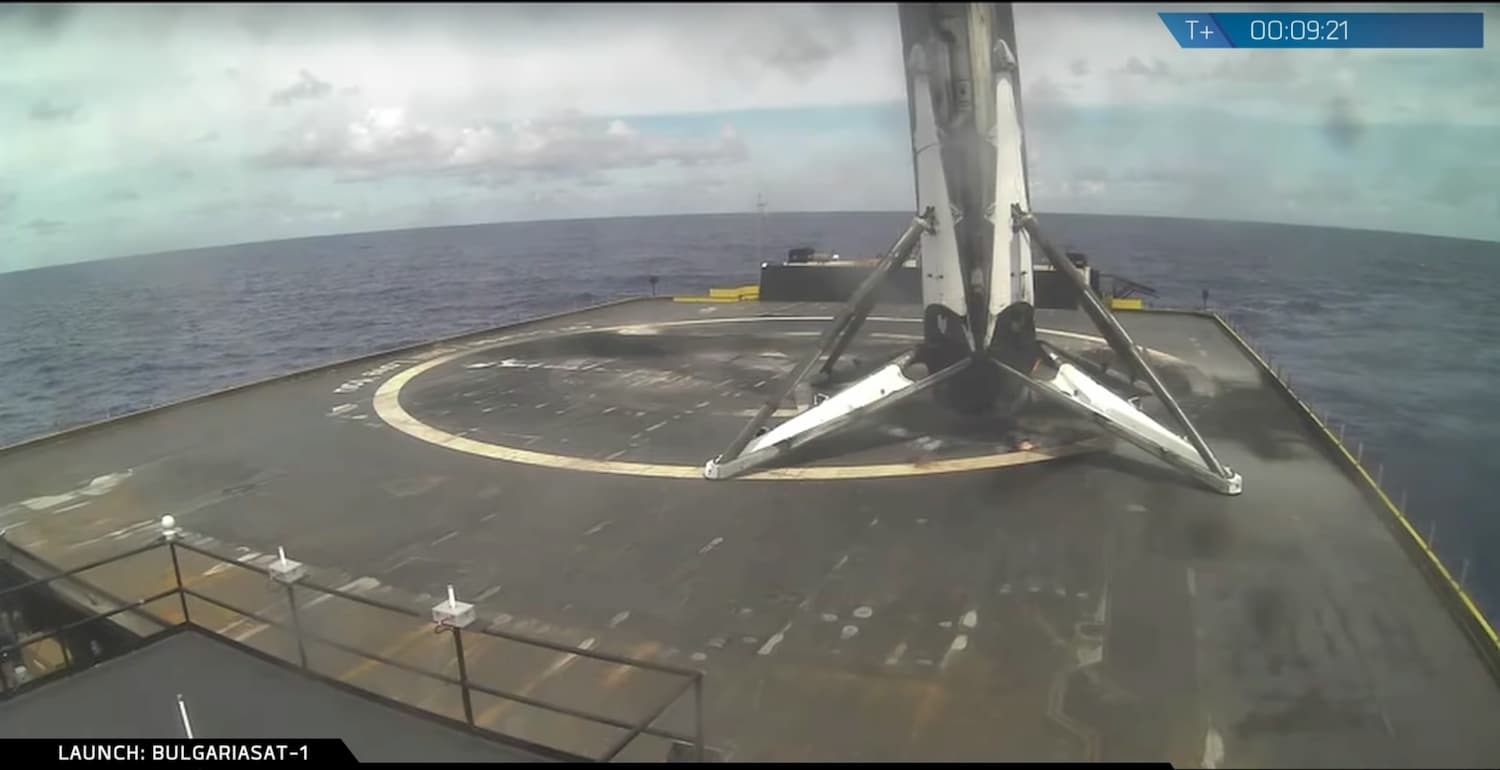 After its second flight, Core B1029 was brought to shore aboard the droneship Of Course I Still Love You (OCISLY) and retired.
High pucker-factor landing pic.twitter.com/cTHxc03Oee

— Elon Musk (@elonmusk) April 7, 2020
From the video, we can see the booster approached the deck of the droneship sideways velocity, moving from the far edge across the length of the deck to the near corner. For reference, the deck of OCISLY is roughly the size of an American Football field (300ftx170ft). To counteract the sideways velocity, the rocket is angled relative to the surface of the deck. Only two of the landing legs make contact before the engine cuts out, and the rocket slams on the deck.
Falcon's landing leg crush core absorbs energy from impact on touchdown. Here's what it looked like on Apollo lander pic.twitter.com/PqS7bn86A3

— SpaceX (@SpaceX) June 2, 2016
The Falcon 9 landing leg system utilizes crush cores, which are expendable shock absorbers made from honeycomb material. The material deforms and compresses, absorbing energy in a compact space. This allows the landing leg system to compensate for unexpected landing impacts without damaging the core structure of the rocket.
Falcon 9 has gone on to land successfully a total of 43 times. A reused Falcon 9 recently flew for its 5th mission during Starlink-6, however the booster suffered an engine failure mid-flight and was not recovered.
---
---