Subscribe on iTunes, Google Play, or by RSS for more space exploration discussions. Cover Image: Raptor Test Firing at 172mt thrust level - enough to lift Starship. Via Twitter - Elon Musk
This week on SPEXcast, we dive into NASA's manned spaceflight initiatives. Commercial Crew is finally flying, albeit uncrewed. NASA also announced its follow up to the Commercial Crew development program with NextSTEP-2, a proposal to build manned lunar landers to support future Moon landings.
NextSTEP-2: Humans Back to the Moon

Concept render of a crewed lunar lander next to NASA's Lunar Gateway. Via NASA
First up is NASA's NextSTEP-2 program, which recently opened up to commercial proposals for lunar landers for use in the mid 2020s. NASA is requesting proposals for crewed lunar lander vehicles under the multi-phased lunar exploration partnerships as part of Space Policy Directive-1. The formal request for proposal was released February 7th, soliciting ideas for missions between 2024-2028. Responses from interested companies are due March 25.
NASA's Space Directive-1 emphasizes the use of the Lunar Orbital Platform Gateway (LOP-G). Manned lunar landers open up the possibility of excursions
Commercial Crew Takes Flight with DM-1
Crew Dragon is almost ready to take flight. The launch is currently scheduled for March 2nd at 2:49 a.m. EST. This flight is the beginning of a multi-part operational test plan for the vehicle. Following DM-1, the capsule will be reused for an in-flight abort test in June 2019. If both DM-1 and the in-flight abort test are successful, DM-2, a test flight of Crew Dragon with passengers will fly this fall. This flight will return American orbital crewed launch capability that ended when the Space Shuttle was retired in 2011.
Check out NASA's walkthrough of Crew Dragon's interior
NASA Aerospace Safety Advisory
Safety is a chief concern for both Crew Dragon and Starliner. NASA's Aerospace Safety Advisory Panel released a 2018 End of Year report that highlights some of the safety challenges Commercial Crew has been working through. Highlights include parachute issues, micrometeroid impact risks, and the systems engineering culture at SpaceX.
MarCO's Legacy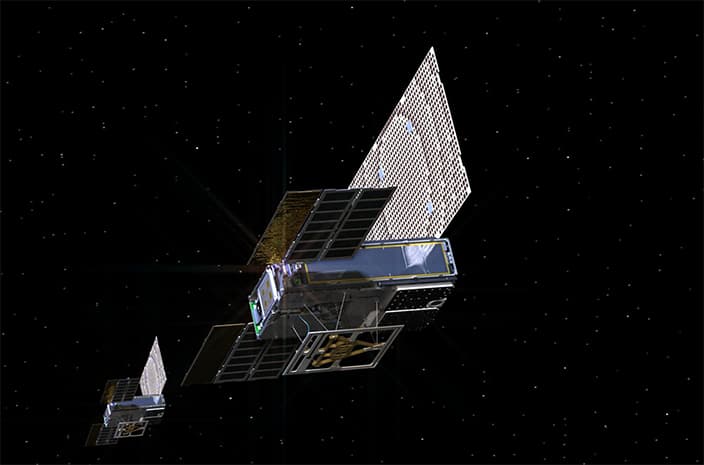 MarCO-A and MarCO-B, named Wall-E and Eva, cruising towards Mars. Source: NASA/JPL-Caltech
Lastly, we want to take a look back at MarCO, the two CubeSats that hitched a ride with NASA InSight last fall. MarCO was a mission utilizing two cubesats fitted with x-band antennas that relayed telemetry from InSight during the "7 minutes of terror" landing on Mars. MarCO cubesats Wall-E and EVA performed a flyby around Mars late November and continued out into solar orbit. NASA JPL last contact with Wall-E was on 12/29 and Eva on 01/04. The mission team has several theories for why they haven't been able to contact the pair of cubesats. Wall-E has a leaky thruster and attitude-control issues could be causing them to wobble and lose the ability to send and receive commands. The brightness sensors that allow the CubeSats to stay pointed at the Sun and recharge their batteries could be another factor.
The MarCOs are in orbit around the Sun and will only get farther away as February wears on. The farther they are, the more precisely they need to point their antennas to communicate with Earth. The MarCOs won't start moving toward the Sun again until this summer. The team will reattempt to contact the CubeSats at that time, though their batteries and other parts may not last that long."This mission was always about pushing the limits of miniaturized technology and seeing just how far it could take us," said Andy Klesh, the mission's chief engineer at JPL. "We've put a stake in the ground. Future CubeSats might go even farther." A number of the critical spare parts for each MarCO will be used in other CubeSat missions including their experimental radios, antennas and propulsion systems. Several of these systems were provided by commercial vendors, making it easier for other CubeSats to use them as well.
---
---