On June 19th, 2018 SPEXcast headed down to Las Cruces, New Mexico for the Spaceport America Cup. We were able to speak with the organizers of the event, student teams, and key space industry figures. This episode is part one of three, covering our overall experience at the competition, how it works, and our main takeaways from the experience. Stay tuned for Part Two in the coming weeks, which will follow the moment-by-moment stories of several student teams throughout the week as well as Part Three, which follows our home team from Rochester Institute of Technology.
What is the Spaceport America Cup?
The Spaceport America Cup is the world's largest intercollegiate rocket engineering conference and competition run by the Experimental Sounding Rocket Association and hosted at Spaceport America, a private commercial spaceport roughly 60 miles north of Las Cruces, New Mexico. The Cup brings university teams from all around the world together for a week of launching rockets, with the goal to hit a specific altitude target as accurately as possible. Team entries range from brand new groups using mostly Commercial Off The Shelf (COTS) rocket motors, airframes, and avionics, to established powerhouse programs with dozens of team members, custom electronics, and cutting edge liquid and hybrid rocket engine designs. The cup provides an opportunity for these student teams to solve a well-defined challenge using engineering creativity and build valuable skills that they can leverage in industry.
Another aspect of the event is the on-site conference day. Every competing team must display their rocket for inspection by judges, safety officers, and teams use this time to showcase their hard work. It's a great opportunity for new teams to learn about best practices and seek inspiration for even more ambitious projects in the future. Veteran schools even have multiple rockets entering the competition. For example, UCLA has a hybrid rocket entry designed and built entirely by freshmen members, while upperclassmen compete with their own liquid fuel rocket.
Spaceport America CEO Dan Hicks alongside Rowan AIAA and their competition rocket on conference day. Credit: Spaceport America
What is a sounding rocket, anyway?
Wikipedia defines a sounding rocket as "an instrument-carrying rocket designed to take measurements and perform scientific experiments during its sub-orbital flight.". While most public perceptions of rockets revolve around the Saturn V or the Space Shuttle, sounding rockets represent not just a historical stepping stone towards modern launch vehicles, but their entirely own category that supports scientific observations and research efforts.
Sounding rockets were the first kind of modern rocket actively produced and launched in large numbers. Early rocket technology could not produce rockets with the energy required to enter orbit, so these vehicles flew ballistic trajectories into the upper atmosphere. In the early 1900s, sounding rockets packing sensors were used extensively to study the Earth's atmosphere and the unique near-space environment. Today however, many of those observations are now done via high-altitude balloons or remote sensing satellites. While the volume of sounding rockets launched per year has reduced since its peak in the mid 1900s, they are still a quick way to conduct tests at high altitude or in microgravity. NASA routinely launches payloads on sounding rockets to gather data for experiments.
Sounding rockets remain a popular activity for amateur rocketeers, and events like Spaceport America Cup provide an opportunity for students to learn about amateur rocketry safely in a controlled environment.
How does the competition work?
The event is split into several components and competition categories. Rocketeers have two targets, 10,000 ft or 30,000 ft and earn points by how close their simulations and actual rocket launch match up. This means that the biggest rocket is not guaranteed to win, and many teams come up with creative ways to slow the rocket down if sensors on-board detect the rocket is likely to overshoot. Extensive safety inspections and design reviews are required by all teams to earn the coveted go-ahead for launch.
Intercollegiate Rocket Engineering Competition Categories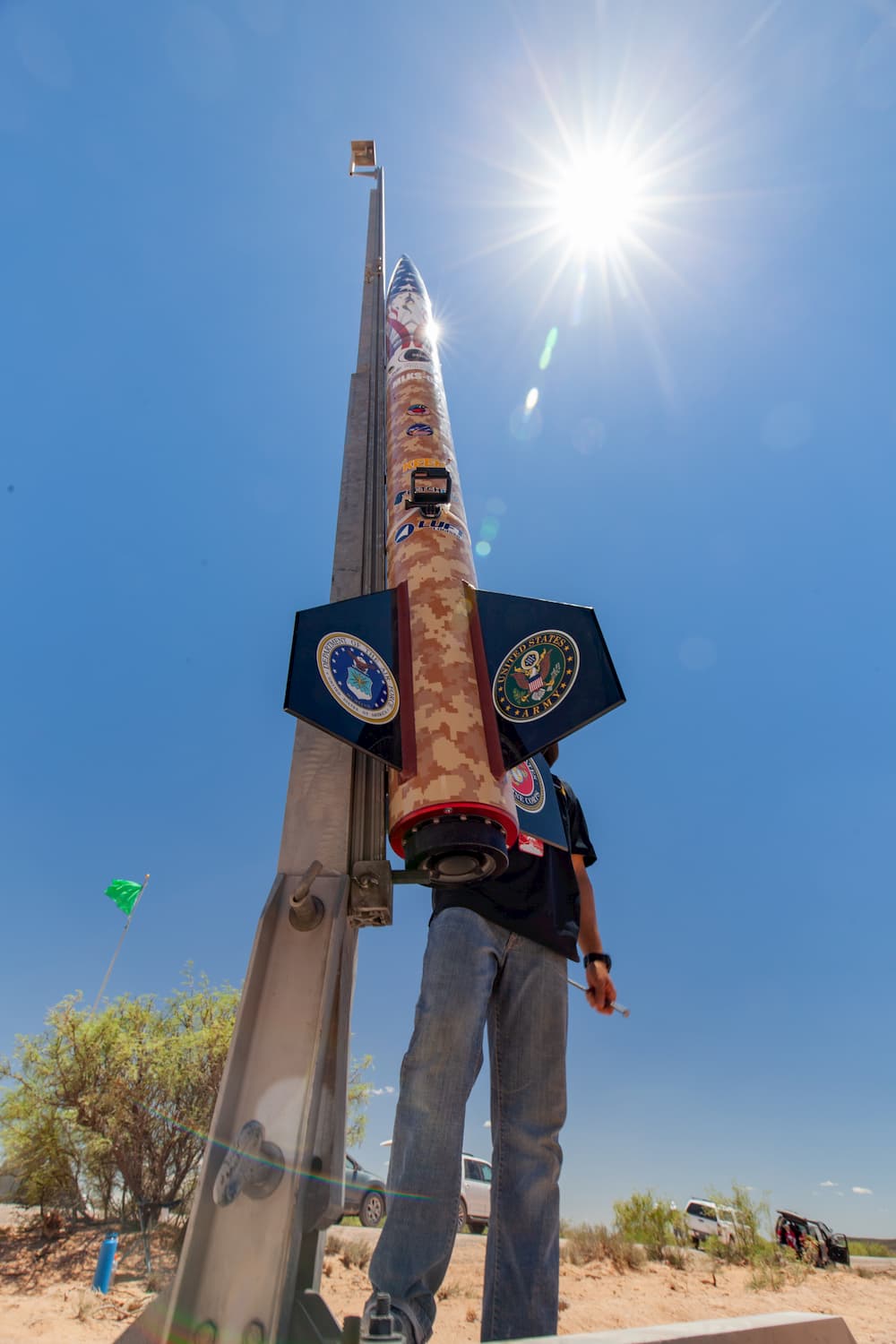 SEDS ASU member tends to their rocket on the rail prior to launch. Courtesy Spaceport America
Keeping Score
Flight operations is only a portion of the possible 2000 points teams can score. All teams are required to submit a detailed report on the rocket before the competition week begins. Safety inspections are specifically not scored, to ensure teams don't try to hide potential safety issues from judges before flight. Teams can also
score by points for teamwork and preparation. On the spot awards were given out for excellence in emergency preparedness, innovative solutions to problems with the rockets on-site, as well as sportsmanship and camaraderie amongst team.
How do I get involved?
High-powered rocketry may seem like a exotic hobby, but there are national organizations that provide mentorship and the opportunity to participate all over the country. The National Association of Rocketry and Tripoli Rocketry Association are two great groups to get involved in. IREC draws many of their safety and operational procedures from these organization's rulesets, and both are dedicated to enabling the safe practice of rocketry for the general public.
If you are an aerospace professional, ESRA is looking for volunteers to help run and judge this competition. Volunteers enable this event to happen, and for many teams IREC is the sole launch opportunity of the year for them due to airspace restrictions. The skills students learn competing are invaluable later in life, and the event is a great opportunity for employers to find top talent.
If you are a student, we hope learning about this event has inspired you to seek out your school's rocketry club. Part two of our IREC 2018 series will follow the stories of several student groups throughout the week diving into the challenges they faced and had to overcome. We hope you learn some lessons from their experience and apply it to your own engineering projects. If your school does not have a rocketry club or currently does not compete in IREC, make it happen! Many of the teams at IREC 2018 were not only first time competitors, but had been founded that year by passionate students that wanted to compete. We heard many stories of student groups facing adversity, whether technical, financial, or organizational, and each one of them overcame those challenges to get to the New Mexico desert. You can too!
Special Thanks
SPEXcast would like to thank the following people and organizations.
First off, whole Spaceport America team including Rosa Bañuelos, our media contact for the event, Daniel Hicks, CEO, Karen Barker, Director of Strategic Solutions, and Chris Lopez, VP of site operations.
The staff of ESRA, especially Matthew Ellengold, for taking time out of a hectic week of launches to speak with us.
Finally, we'd like to thank all of the students who participated at IREC and who spoke with us. Your dedication to rocketry and the craft of engineering was on full display and we hope you continue to find success.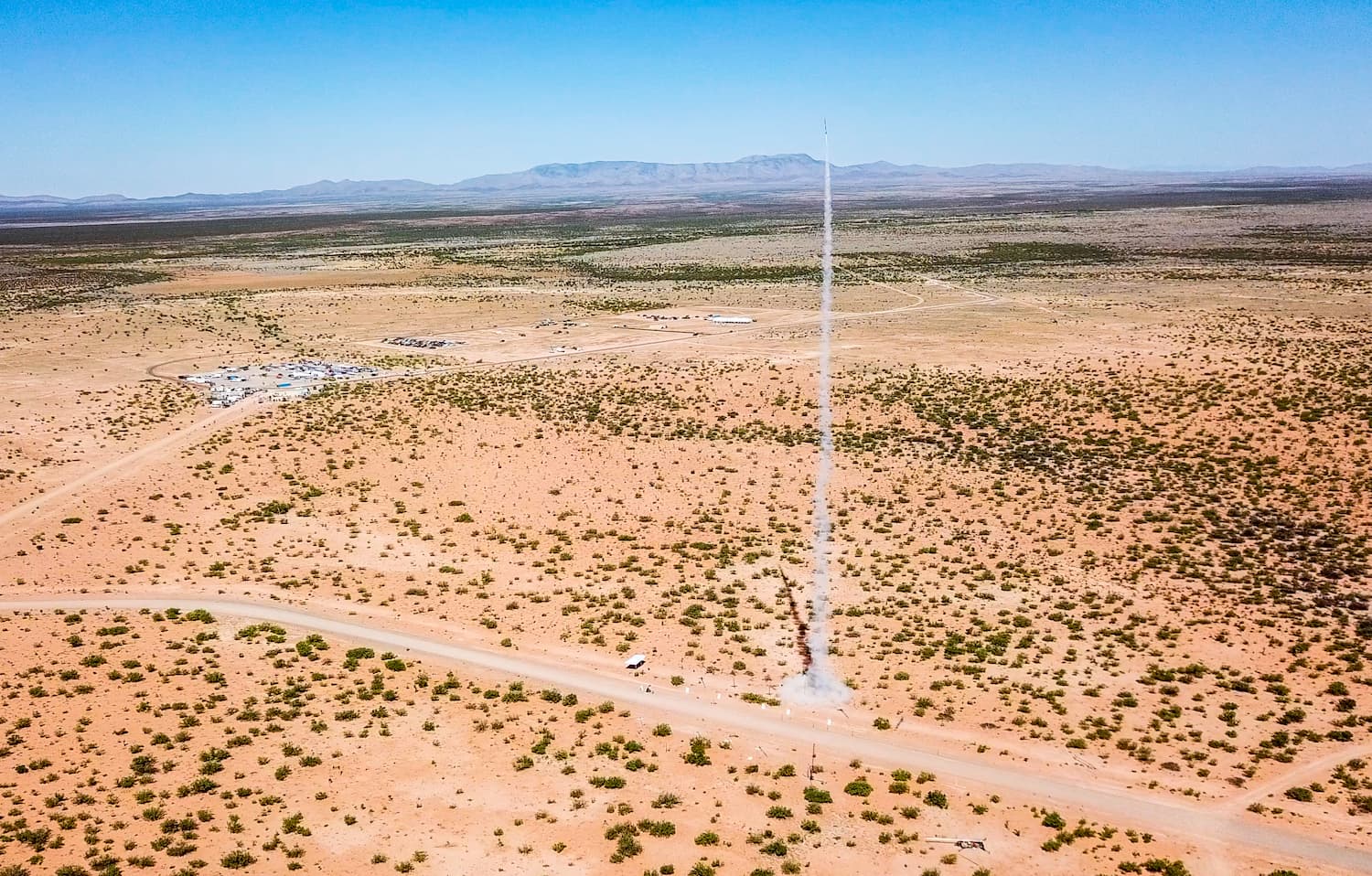 ---
---