Hispasat 30W-6 launching from SLC-40 on March, 6th, courtesy of SpaceX
On March 6th, SpaceX successfully launched their 50th rocket into orbit. While this might pale in comparison to the Space Shuttle, Soyuz, or even the Atlas V, it is important to remember that just 10 years ago, no private company had every sent a vehicle into orbit around the Earth. A lot has changed since then, and with 50 launches under SpaceX's belt, I asked the SPEXcast team about their top 5 favorite SpaceX launches from the past decade.
Phil
DSCOVR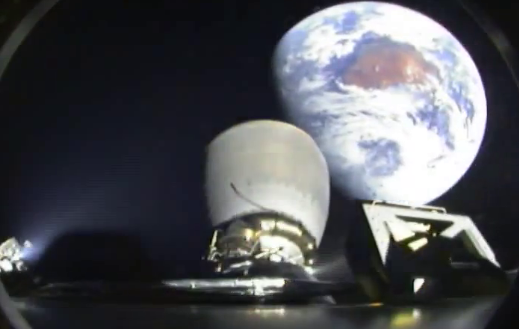 View of Earth from 2nd stage during the DSCOVR mission, courtesy of SpaceX
This one is personal because it was the first launch I got to watch from SpaceX HQ in Hawthorne, CA. As if witnessing the live feeds from the big screens at mission control wasn't cool enough, the video feed from the second stage was kept on for hours after liftoff. As I went through my day, I got to see the entirety of the Earth reduce to a pale crescent behind a rocket nozzle.
Orbcomm-2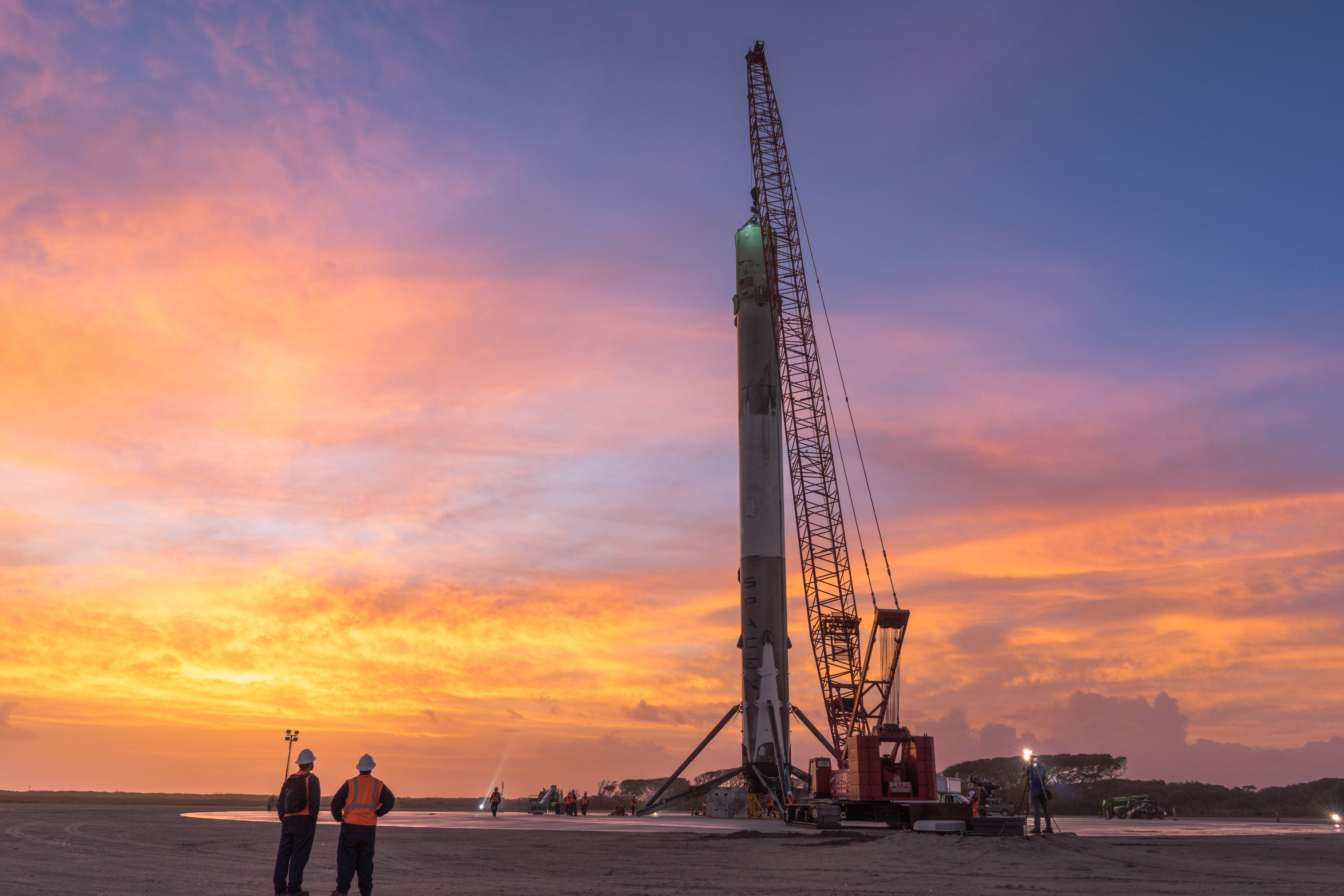 View of the first ever landed first stage after the Orbcomm-2 mission, courtesy of SpaceX
The first rocket booster to land back at the launch pad (on purpose and intact). I was at my parents' house watching a grainy stream on their poor internet, explaining what should happen and not really knowing what to expect. The engines' glow in the night--smoke--and there it was. I felt this rare sense of pride for humanity, optimism for the future, and heavy dose of "holy-shit-they-actually-did-it."
CRS-7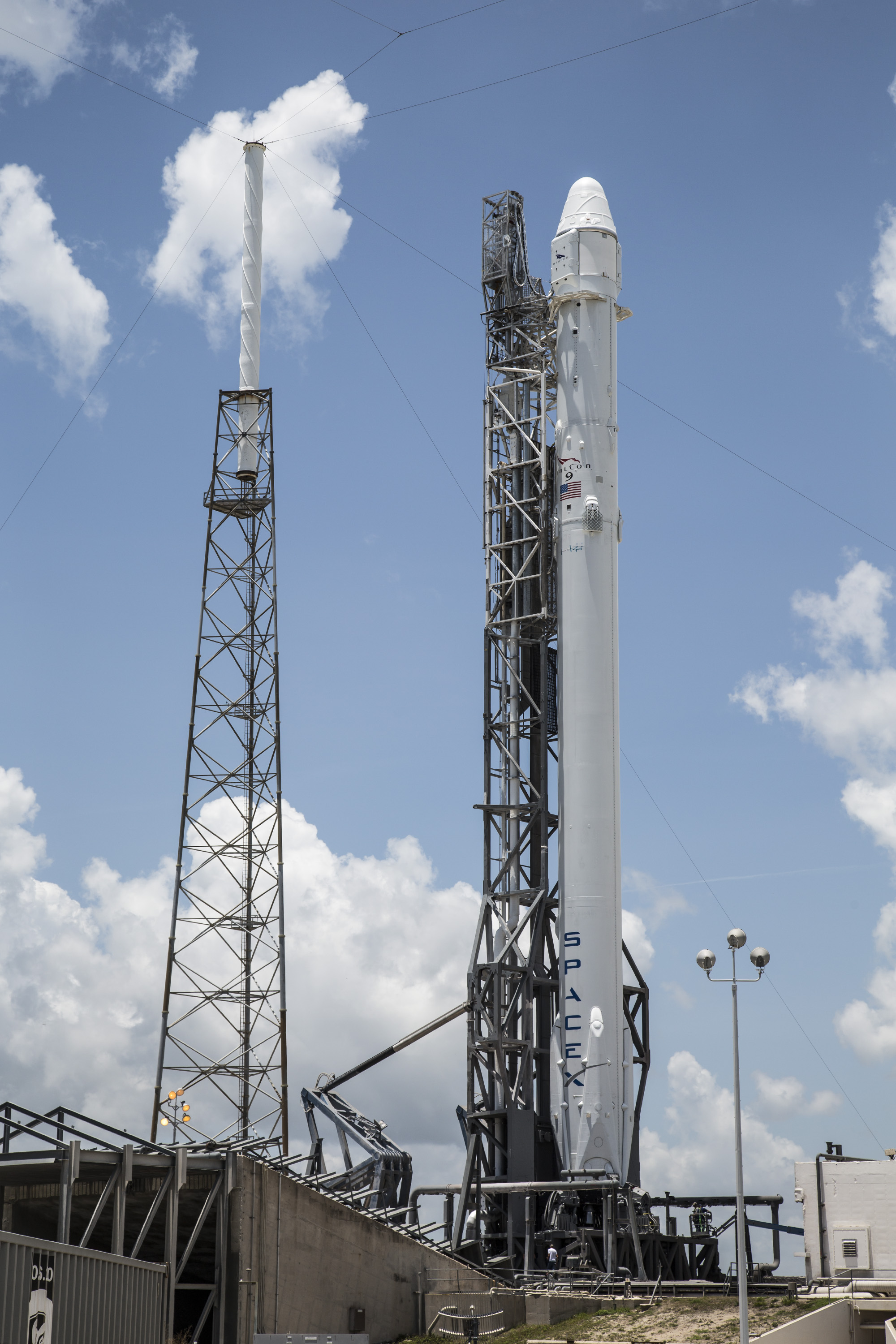 CRS-7 on the pad before its fateful launch, courtesy of SpaceX
This one is personal for me. In the first half of 2015, I worked at SpaceX as an intern for the Cargo Dragon reusability effort. Months of hard work went into developing new ways to make Dragon easier to refurbish and reuse after its trip to and from the ISS. In June I had said my goodbyes to Dragon and wished it well for its CRS-7 flight at the end of my internship. Fast forward to June 28, 2015. I was with my girlfriend at a family gathering and pulled up the SpaceX launch stream, beaming with equal parts pride and excitement. We huddled around my laptop's 15" screen and waited for the countdown. Nominal launch, and the host announces that the spacecraft made it through max Q. Whew. Then… poof. Someone cheered, not realizing the situation. Dragon probably survived, I'm told, though contact was lost as it crossed the horizon. Somewhere there is Linden hardware–destined for space–disintegrating at the bottom of the ocean.
You can read more about the cause of the CRS-7 accident in the official NASA Public Summary.
Iridium-4
SPEXcast reunion! On December 23, 2017, I embarked on a mini road trip from San Francisco to Lompoc, CA where Falcon 9 was preparing to launch from Vandenberg Air Force Base. T.J. was also in the area and made the trip up from LA. We met on the side of the road between a few farm fields (one could mistake it for the middle of nowhere). We caught up and settled in for the countdown. You might hear this a lot, but witnessing a rocket launch in person is so much different than watching videos. An overwhelming sense of wonder takes hold as the brilliant orange glow climbs up and away. This launch in particular took place at twilight, such that the vehicle and its exhaust were lit by the sun against a dark night sky. I was especially stricken by the glint of the fairing and the puffs of attitude control thruster exhaust hanging in the upper atmosphere. Truly memorable.
Falcon Heavy Demo Flight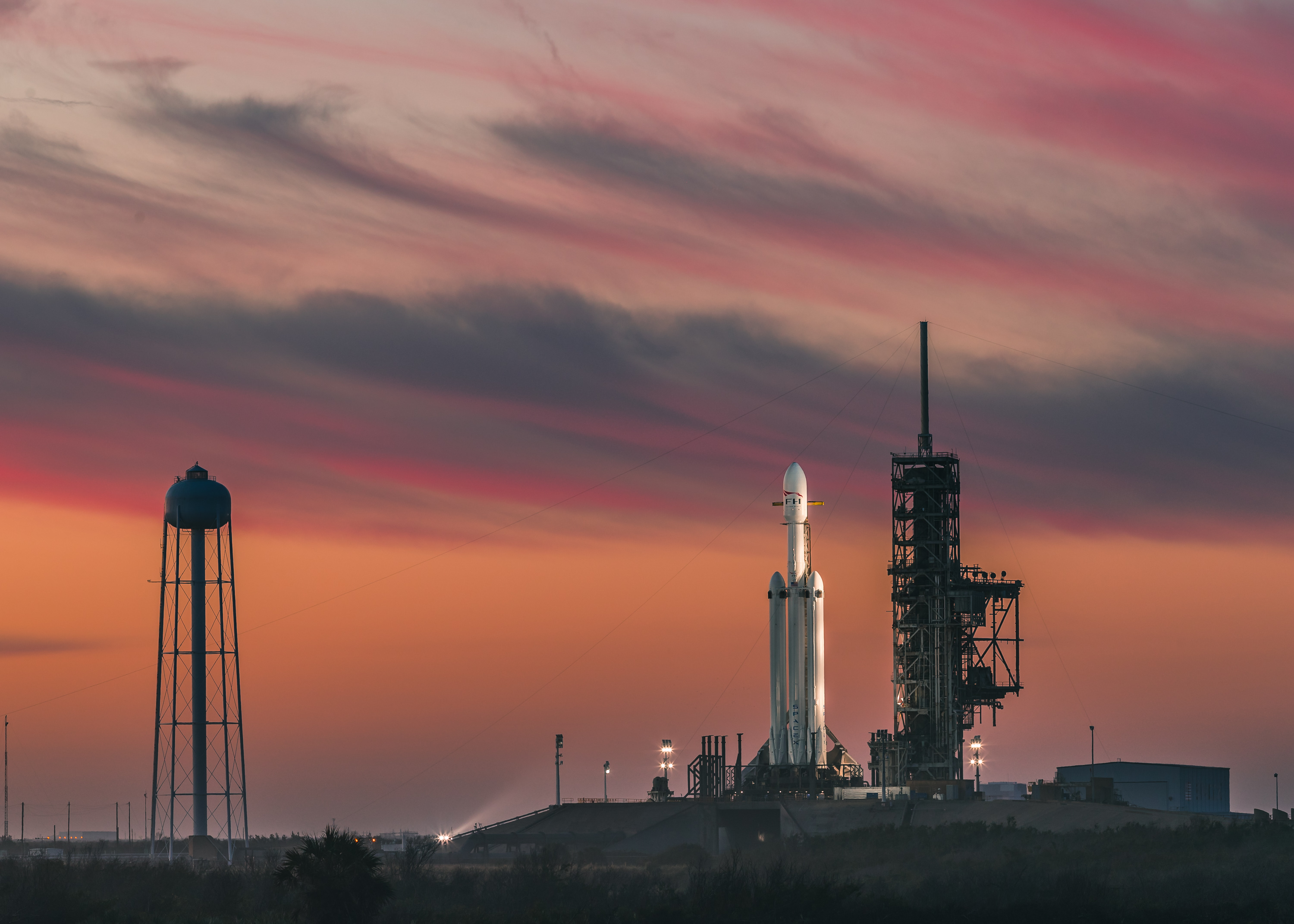 Falcon Heavy sits atop Pad 39A before its first launch into space courtesy of SpaceX
While it is true that I set my expectations low for this one, I don't think anyone can deny its impressiveness. I am still as awestruck at the success of the Falcon Heavy flight test today as I was when we recorded our reactions to it on the show (which you can listen to here). And as much as we nag at how FH was perpetually 6 months away for the last five years, let's reflect on how it has been less than a decade since Falcon 9 first flew, and less than that for FH. What a time to be alive.
---
T.J.
Orbcomm-2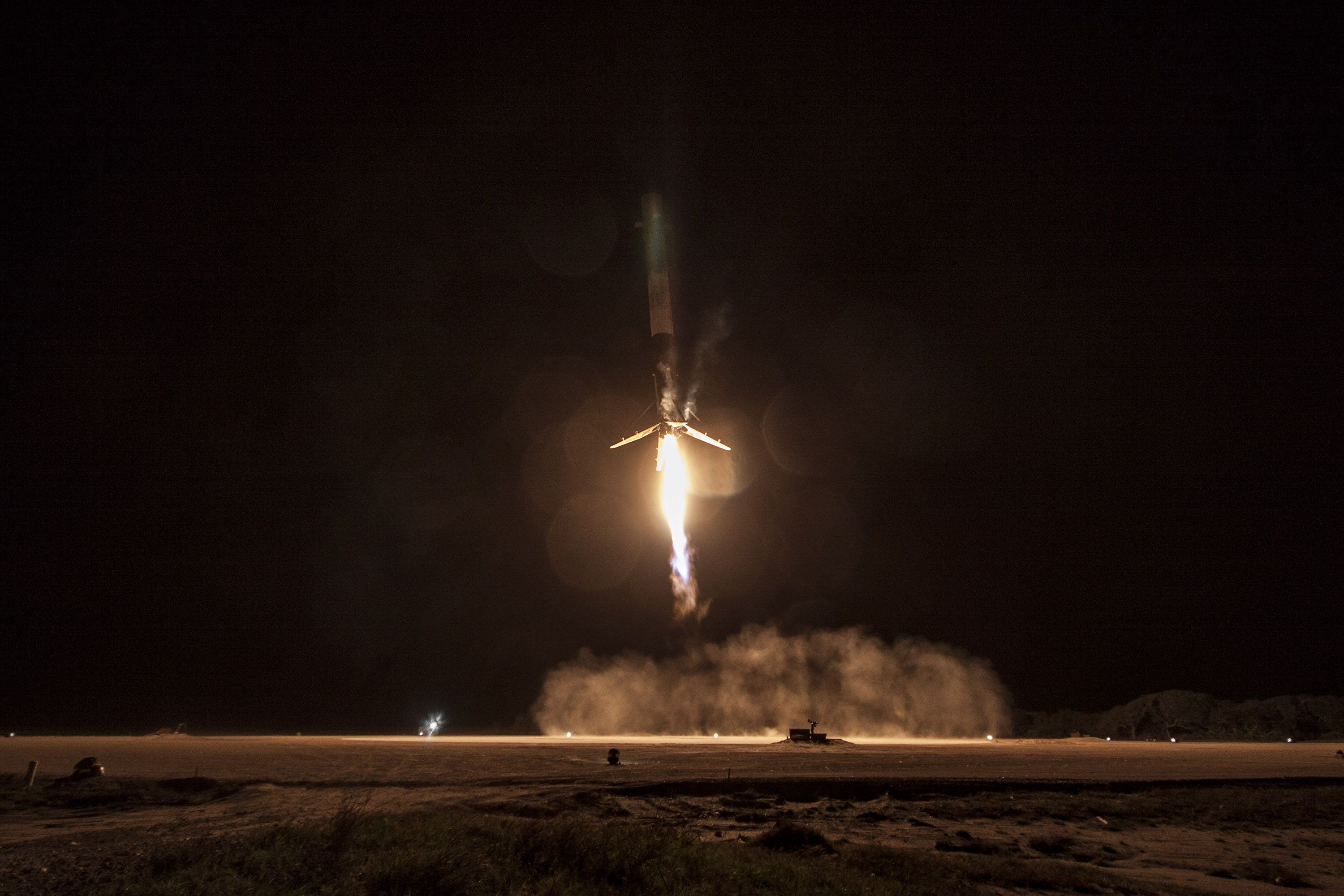 Orbcomm-2 comes in for its first, shaky, successful landing, courtesy of SpaceX
First recovered booster. Landed on land, it was awesome!
Orbcomm-2 was the first SpaceX flight to successfully land a booster. It was also return to flight after the pad failure of AMOS-6.
Jason-3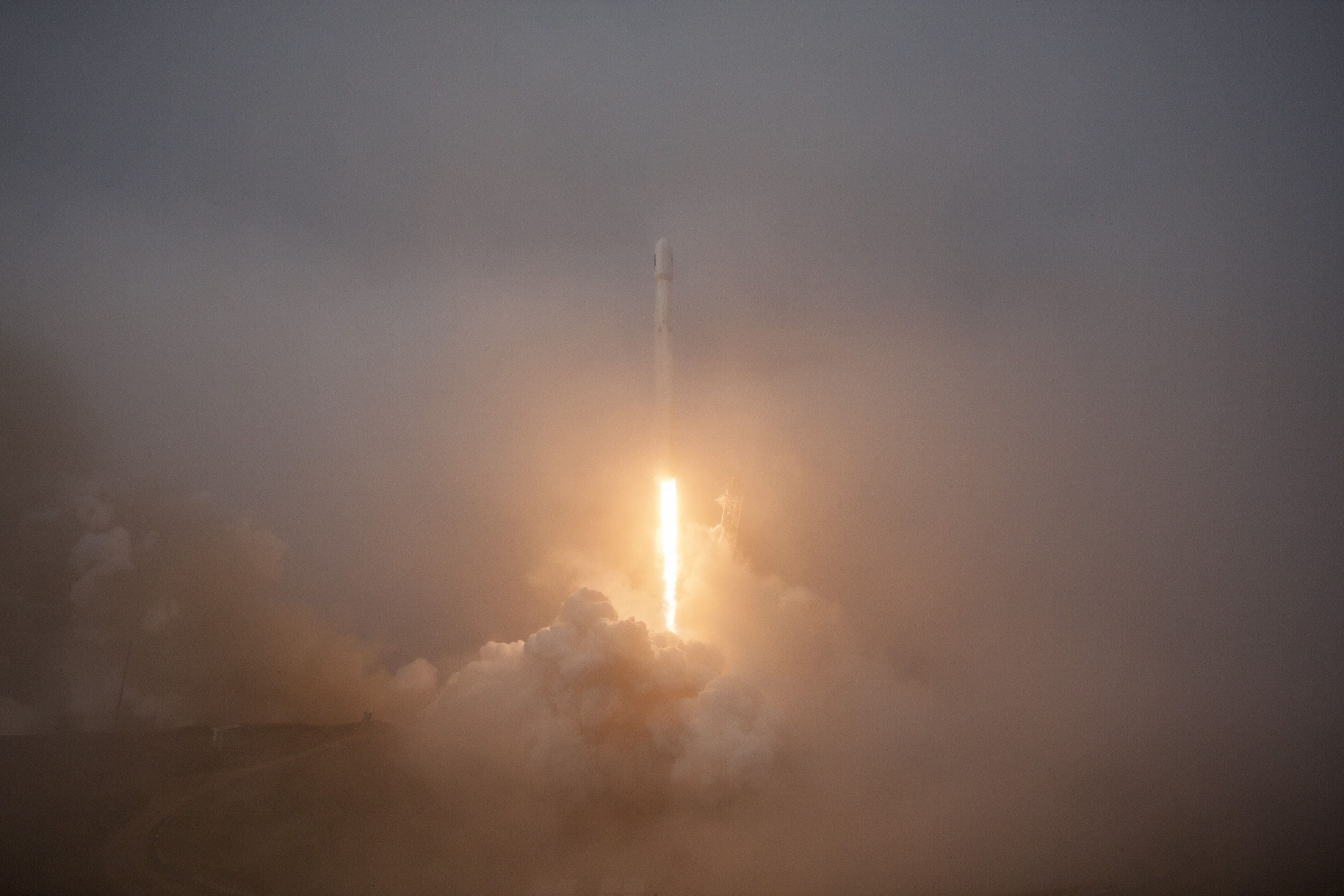 Jason-3 lifting off through heavy for from SLC-40 at Vandenberg Air Force Base, courtesy of SpaceX
Jason-3 was my first in-person rocket launch. I drove 4 hours from LA to Lompac to see the launch. Unfortunately heavy fog obscured our view. The landing failed on the barge due to ice freezing the locking collets in the booster leg.
CRS-11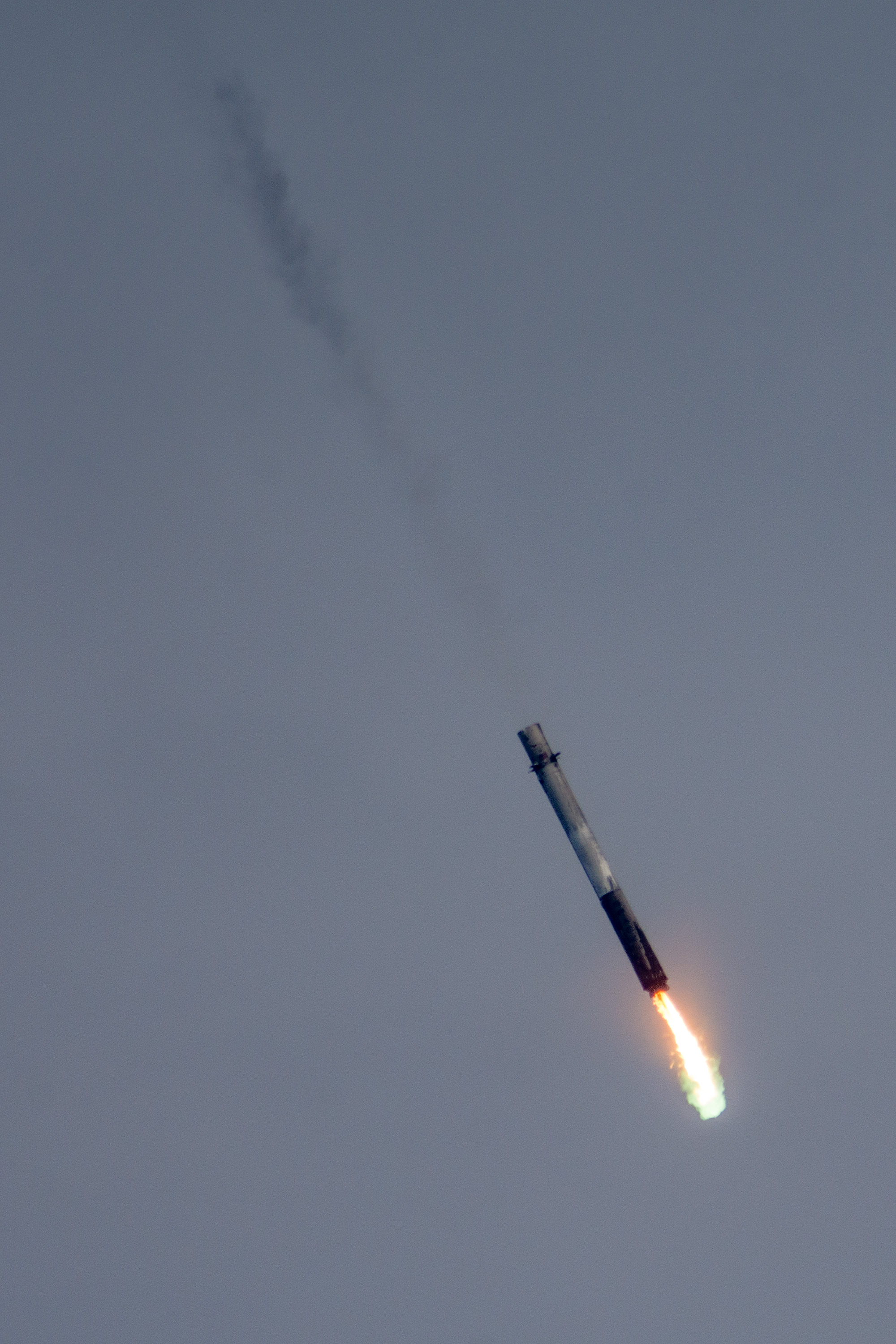 CRS-11's first stage relights its engines for the landing burn above Landing Zone 1. Green flame is visible from the pyrophoric starter, TEA-TEB, courtesy of SpaceX
CRS-11 was my second in-person rocket launch and I even got to see the rocket take off this time! This one was special because I went to Florida for the weekend, expecting the launch to have happened during the week before. I got to see Kennedy Space Center, which is an amazing place, as well as Space Shuttle Atlantis. This launch was special since it was a reused core, launching the first fully reused Dragon capsule. Watching a Return To Launch Site (RTLS) landing in person was amazing. The rocket looks like it is falling on top of you as it begins its landing burn, and slowly breaks away to land at Landing Zone 1 a few miles away.
Iridium-4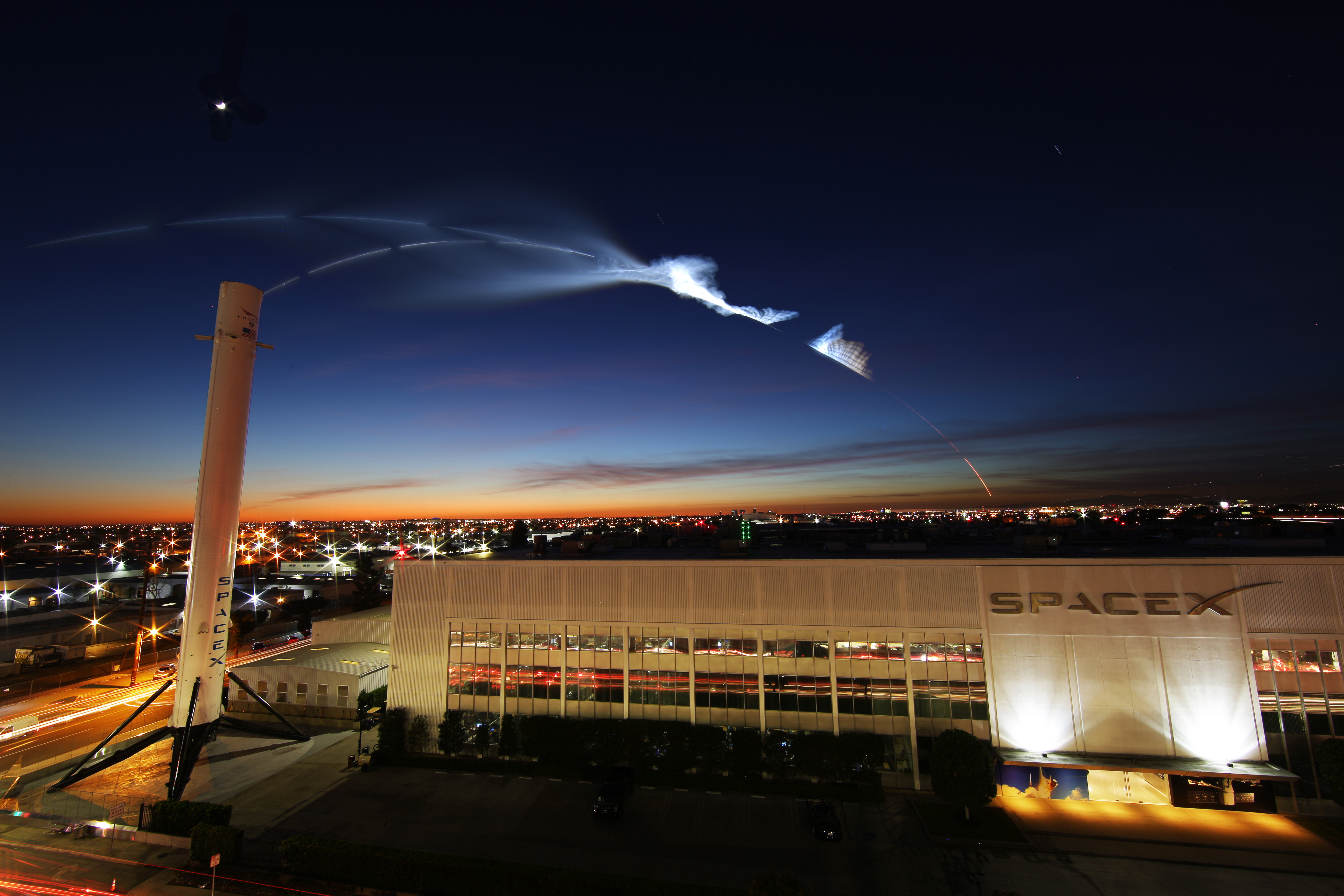 Twilight reflected off of high-altitude rocket exhaust leaves a trail to the stars over SpaceX HQ in Hawthorne, CA, courtesy of SpaceX
Iridium-4 was my third in-person rocket launch. This launch was special since I got to meet up with Phil at the metaphorical halfway point of California. We got to see the rocket take off (there was no fog this time) and due to the dusk launch time, the rocket generated a beautiful plume which caused a bit of mass hysteria back in my home town.
Falcon Heavy Demo flight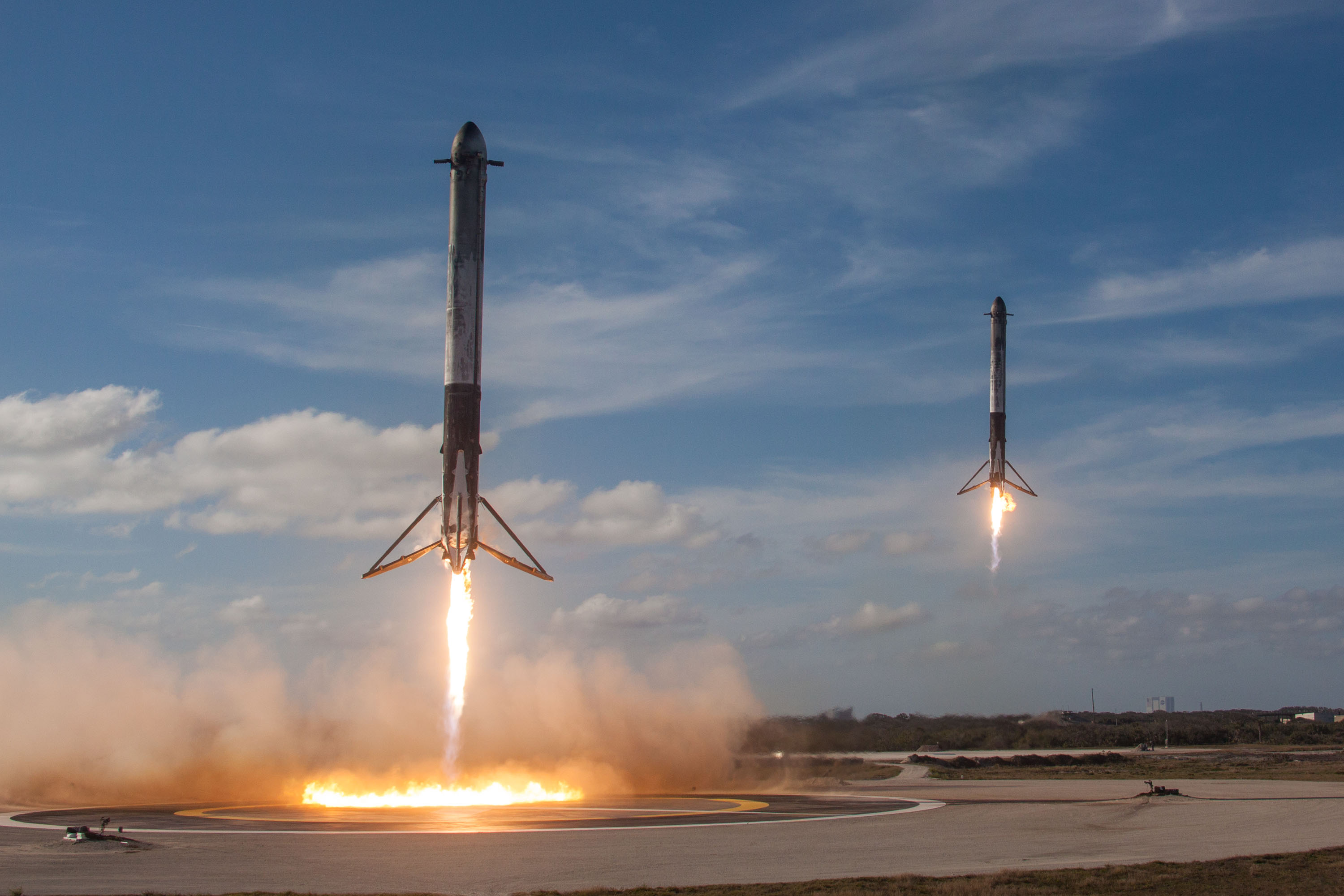 Falcon Heavy side boosters landing in unison, after successfully lofting Starman into orbit, courtesy of SpaceX
Falcon Heavy is an immensely powerful vehicle, and its first test flight represented a sea change in the orbital launch industry. While I was not in Florida for the launch, I did manage to get my entire office to watch the livestream on our giant TV. Engineers of all ages and backgrounds, gathered around for over half an hour to experience the event. Also the breathtaking photos of Starman in orbit are some of my favorite space photographs.
Drew (one big one!)
Falcon Heavy First Launch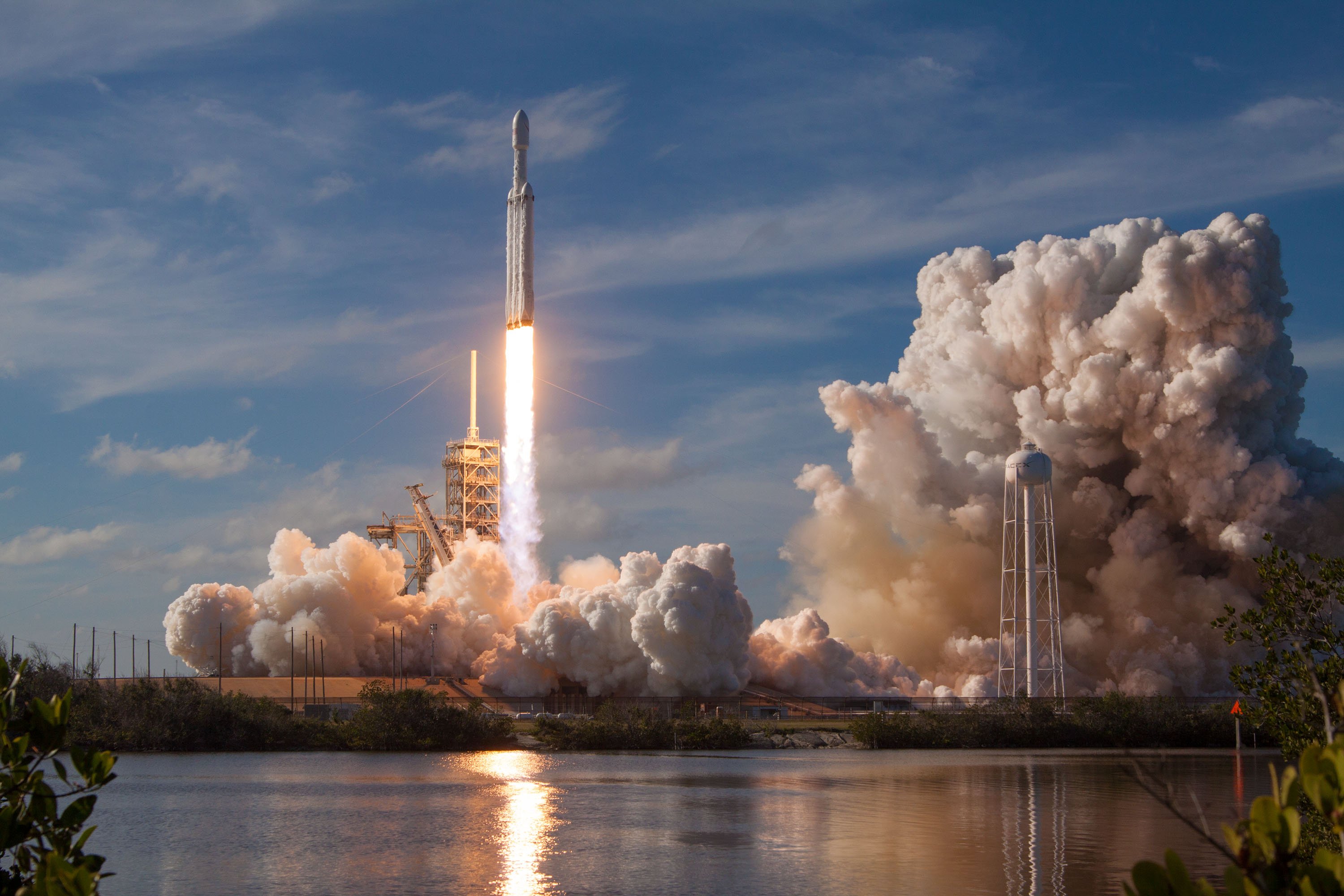 Falcon Heavy lifts off from Pad 39A, courtesy of SpaceX
So rarely does a movie live up to the PR hype that surrounds it, especially when there is a long lead up. Maybe because there was, according to Musk, "only a 50-50 chance [of success]" (or of a really big fireball), or maybe because there is something special about David Bowie's playing while a spacesuit rides a sports car into the solar system, but FH lived up to and surpassed the hype for me.
The week preceding the launch was marked by a continual low-key buzz as people around me talked about FH, SpaceX, and space exploration in general. As the rescheduled time tables for February 6 came out, I was relieved. The launch window opened at 1:30 pm EST. "Great!" I thought to myself, "SpaceX usually launches really close to the opening of the window. I won't be in class." But then the messages came down through about ten different social media and communications platforms as everyone shared the disappointing news, "FH launch delayed to 2:20 pm EST." I had class for the remainder of the window. And I definitely wasn't going to be able to watch it in my class at 2:20. Then it slipped to 3:45. "Okay," I thought, "I can work with this." Despite sitting in the front of my second class in the window, I routinely had my laptop out to follow the lecture. "I could just open the stream and mute it." (I feel compelled to say that I don't typically do this sort of thing in class. But I figured that my phone would be buzzing with notifications all through class regardless of the mission's outcome. It would be easier to ignore the influx of messages if I knew that they held good or bad news.)
I arrived to the classroom at 3:30 and quickly set up my laptop, muted the speakers, and opened the stream, which had started five minutes before. I focused on the professor as best I could for the first ten minutes. But my gaze flicked to the screen every couple seconds. My eyes were glued to the stream for the final countdown. And then I just basked in the glory of the current most-powerful orbital launch vehicle take flight. Although it was muted, I could hear Bowie in my head. I'm sure I was grinning like an idiot in class, but the professor didn't seem to notice. My attention flicked back to the lecture now and then but I was waiting, very impatiently, for the three booster and core landings. Watching the boosters come back and land so perfectly was incredible. I had to bite the inside of my cheek to keep from laughing out. And the core missed the ASDS (barge). Although the feed cut away, it was pretty clear something went wrong based on the stream presenters' reactions. And although I consider the core a failure, it hardly detracts from the launch as a whole. And StarMan was on his way out to kiss the cosmos.
For more of our reactions to the Falcon Heavy Demo flight, check out episode 43 of SPEXcast
---
---